USAID chief backs homegrown policy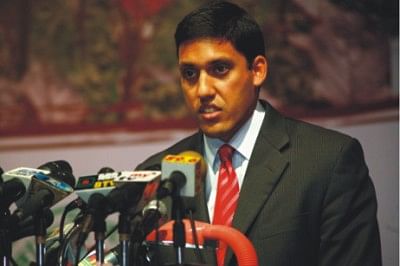 USAID Administrator Dr Rajiv Shah yesterday put forward a new way of partnership between the US and Bangladesh where there will be homegrown policies and programmes to reduce hunger and poverty.
"This initiative is a new way of working and to follow the country's leadership and plans and help reduce hunger and poverty," he said, highlighting US President Barack Obama's new initiative -- Feed the Future -- that seeks equitable economic growth.
Shah was speaking at a news briefing after addressing the inauguration of two-day Bangladesh Food Security Investment Forum that began at Sonargaon Hotel in Dhaka. The forum is set to help Bangladesh finalise a roadmap for future investments in food and agriculture.
The US and the G-8 countries will provide Bangladesh with financial and technical assistance to help the country increase agricultural production, which now faces huge challenges due to the impacts of climate change.
Last year the G-8 countries promised to mobilise $20 billion and the US has already contributed $3.5 billion to 'agriculture and food security trust fund' for the developing countries. Other than the US government's food assistance of $220 million for the next five years starting from June, Shah announced an additional $20 million for the next fiscal year for farm sector development in Bangladesh.
"We saw aspirations to do things quite differently. We are not designing programmes in Washington by international agencies, rather Bangladesh is doing it," said the head of the United States Agency for International Development (USAID).
He lauded Bangladesh's efforts to achieve food security and pro-agriculture policies. The challenges in food production are climate change impacts and rising population, the USAID administrator said.
US Ambassador to Bangladesh James F Moriarty also spoke, while USAID Mission Director Denise Rollins was present.