Noted cinematographer Baby Islam no more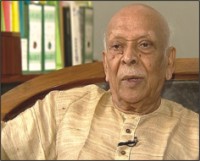 Veteran cinematographer, photographer, director and producer Baby Islam passed away on May 24 at a hospital in the city. Islam has been unwell for a while. As of writing this report, details had not emerged.
Islam was born in 1931 in Murshidabad, West Bengal. He went to Italy for higher studies on film. Before Partition (1947), Islam worked with noted Indian director Ajoy Kar as assistant director. In 1956, he joined as senior photographer at the Information Department in Dacca (Dhaka). He also served as the general manager of FDC (now BFDC).
Islam took part in many exhibitions and competitions. His photos were regularly featured in books and journals. He received several prestigious awards for his outstanding contribution to the film industry. As cinematographer, his notable works are "Titas Ekti Nodir Nam," "Akash Aar Mati," "Shurjosnan," "Nawab Sirajuddaula," "Neel Akasher Niche," "Noyoner Alo" and more.