480 rare starred tortoises seized
A Malaysia-bound Indian held at Shahjalal Airport for the smuggling bid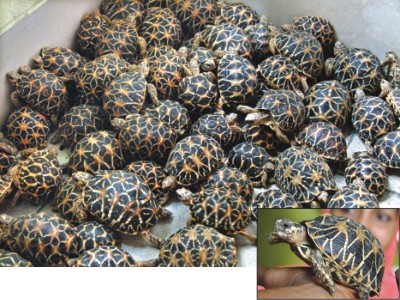 Customs officials seized 480 rare starred tortoises from a Malaysia-bound Indian national at the capital's Hazrat Shahjalal International Airport early yesterday.
A species native to South India, starred tortoise is much-coveted in pet trade across the globe. Collectors fancy keeping one in their garden for elegant patterns on its shell.
In July 2006, police recovered 1,600 tortoises of this kind at Rajshahi land port.
At Shahjalal airport, customs staff unearthed the consignment in the baggage of Nagoor Meeran, a 42-year-old South Indian, at 2:30am.
Meeran was to take Kuala Lumpur-bound Malaysian Airlines flight MH-197.
Mostafa Jamal, the officer who checked the luggage, said, "He had declared his baggage to be full of food items, and successfully got across the scanning gate-4."
But as the luggage felt heavier, Mostafa asked him to open it and found the live tortoises.
Meeran, who is from Kavalkara Street in Manachanallur of Indian state Tamil Nadu, came to Dhaka from Bangkok on May 22 and checked in at Hotel Uttara Inn.
He admits this was not his first time. He had smuggled tortoise and other live animals out of India before, said customs and police officials.
He had entered Bangladesh five times by air and road, said the officials after examining his passport.
Police also recovered from him two cell phone sets, five foreign SIM cards, Tk 10,200, $102, Malaysian ringgit 20 and Thai baht 100.
Meeran was handed over to airport police. Two cases were filed against him under wildlife act, Import Policy Order 2009-12 and Money Laundering Prevention Act 2009.
The seized tortoises were kept at the wildlife and nature conservation division of the forest department's Agargaon office.
Forest Conservator Tapan Kumar Dey said they will be released at Bangabandhu Safari Park in Dulahazara today.
Meanwhile, eminent nature lover Dr Reza Khan yesterday urged the government to send the tortoises back to India.
In a statement, he said Bangladesh's weather is not suitable for this dry-country or semi-desert loving tortoises.
"We also do not have proper people and resources to keep them alive," he added.