<i>Floating people stream out of city fearing uncertainty</i>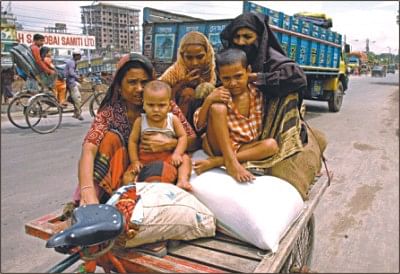 Thousands of people, mostly day labourers and of low income bracket, yesterday crammed different bus and launch terminals, and railway station in a desperate bid to leave the capital.
Left wondering how to earn a living with the indefinite curfew in force since Wednesday night, they opted to return to their village homes, fearing the situation might not change for the better soon.
As the curfew was relaxed for 14 hours yesterday, they streamed to Gabtoli, Sayedabad and Mohakhali bus terminals, Kamalapur Railway Station and Sadarghat Launch terminal.
But a large number of them could not find tickets while some had to count much higher than the usual for fares.
"We are going to Shariatpur as we couldn't earn a penny in the last two days when we need at least two kilograms of rice a day. Probably, the curfew is here to stay and it's simply not possible for us to be in Dhaka without a means of livelihood," Sara Banu, 55, a female day labourer.
Like Sara, thousands of others who were already on starvation wages were leaving the capital for fear of things getting worse during curfew brought in to quell the student unrest.
Despite the let-up, transport movements did not return to normalcy due to fear of harassment by the law enforcers.
The number of vehicles hitting the road was low after the law enforcers beat up transport workers during the hours when the restriction was loosened, sources at bus terminals alleged adding that showing IDs just do not work.
Helpless, people had to walk a long way to the bus and launch terminals and Kamalapur Railway Station, humping the luggage.
"The panic in public mind is not over yet. Usually, we run 60 to 70 inter-district buses but today only 10 left the capital. Besides, none left after 4:00pm though the curfew was relaxed till 10:00pm," an employee of Greenland Enterprise told The Daily Star.
Meanwhile, 30 trains yesterday left the Kamalapur station for 19 destinations, railway sources said.
"Extra compartments have been added to accommodate the swarm of passengers," said Nargis Alam, one of the station masters.
Scenes were no better at Sadarghat as thousands of people flocked there to have a little room on the launches bound for the southern districts.
Some 300 launches left the terminal with passengers beyond their capacity. This was happening. The government warning against overloading appeared irrelevant as the mad rush of people was the order of the day.