Euphoria over euro rescue fades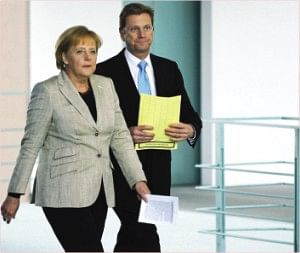 The German government asked parliament to swiftly approve its share of the bold $1 trillion rescue package for the euro as stocks and the euro fell Tuesday on concerns the massive loan program only postpones the day of reckoning for the continent's indebted countries.
Chancellor Angela Merkel's cabinet adopted and sent to parliament legislation promising German guarantees for at least euro123 billion ($157 billion) in loans.
The measure is part of a euro750 billion package agreed Monday by European Union members and the International Monetary Fund, in the form of emergency loans that would be made available to keep troubled governments from defaulting. That is intended to reassure panicky bond markets that governments can pay, and to keep investors from driving up borrowing costs in a vicious circle.
The size of the package sparked euphoria and did help boost the currency and stock markets Monday -- but by early Tuesday the mood seemed to fade and the euro slipped to $1.2670 in European midday trading -- down from $1.2804 in New York late Monday.
European officials were turning to concerns about the rules that govern the euro, and which were supposed to prevent crises such as Greece's trip to near-bankruptcy. But those rules have long been flouted, and analysts are waiting to see if the EU can finally put a lid on debt that countries won't break at will.
French Finance Minister Christine Lagarde said the Greek crisis is a "wake-up call for all of us on public finances are concerned and I'm sure it will be followed by appropriate review of the kind of policies and public finance policies and not necessarily just in the euro zone."
The European Commission is to start the process on Wednesday by presenting proposed new rules tightening control over countries spending.
The plan was praised for its scale, which for the moment seems to have halted fears the Greek debt crisis will immediately engulf other weak countries such as Spain and Portugal. But long-term, analysts say that by itself it doesn't cut the governments debt loads that European governments with weak growth will struggle to pay.
"Unless measures are taken to deal with the underlying structural problems affecting the most indebted of eurozone nations, then the bail out package merely kicks the can down the road," said Michael Hewson, analyst at CMC Markets.
It also raises concerns that by making bailouts available, it makes reckless spending more likely and weakens political will to impose painful spending cuts. Greece was engulfed by rioting last week over government plans to cut civil service pay and other benefits, and three people died when protestors torched a bank.
The plan, adopted after frantic talks lasting into the early hours of Monday, consists of a euro60 billion ($76 billion) European Commission lending program, euro440 billion ($560 billion) in new loans by the 16 euro nations, and euro250 billion ($318 billion) from the IMF.
Germany's share is at least euro123 billion but could go up to euro150 billion, according to opposition politicians who were briefed by Merkel Monday afternoon. Germany will have to shoulder more if countries facing financial troubles of their own should be unable to hand out loans.
Opposition leaders Juergen Trittin of the Greens and Gregor Gysi of the Left Party voiced dissatisfaction that it remained unclear how much the German taxpayer will be billed and what the government plans entail.
Economist Christoph Schmidt, a top government adviser, also criticized the plan. "That is really not how we wanted the common European currency," Schmidt told the mass circulation Bild's Tuesday edition.
"What is happening is the opposite of what we Germans thought to be stable currency policy and an independent European central bank."
He said the European governments simply bought some time with the package without defining clear conditions like reducing the debt of member states.
Government and opposition parties were to start discussing the German measure later Tuesday. It is supposed to go to the floor next week but will likely not be adopted before June 4.