Bold and bright colours on canvas
Monica Jahan Bose's art exhibition in Paris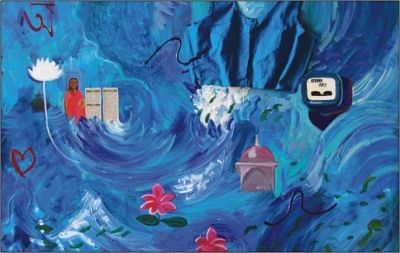 Monica Jahan Bose is a Bangladeshi painter who now lives and works in Paris. Her second solo painting exhibition titled "Tumi Ami: Spring Heat" was recently held at Galerie Deborah Zafman, Paris. Bose has been nominated by noted Bangladeshi expatriate painter Shahabuddin Ahmed for this year's Prix Antoine Marin, a prestigious annual prize for emerging painters in Paris, says a press release.
Bose studied art at Wesleyan University, the University of California at Berkeley as well as Shantiniketan. Her last solo painting exhibition was held at Alliance Francaise de Dhaka in Bangladesh.
Bose is mainly a figurative and objective painter. Her approach and style often have a child-like quality. Her works focused on love and human connection in our complicated world. The exhibition included 21 mixed-media paintings, some of which used real sari blouses and collages from photographs she had taken. The sari blouse is a recurring motif in her works and she used the sari as a symbolic link to her culture and heritage. The motif simplifies her works and helps to create a personal hallmark for her bold and vivacious colours paintings. Her theme is deeply connected to women's freedom and various socio-economic and political aspects of our country. His works also represent our folk culture.
Bose feels comfortable working on a large canvas in keeping with her thought-provoking theme and composition. Her works are simplified by a powerful engagement with figures, objects and space, with bold and sweeping brushstrokes.