Kalim Sharafi and Dr. Sanjida Khatun to receive Rabindra Award 2010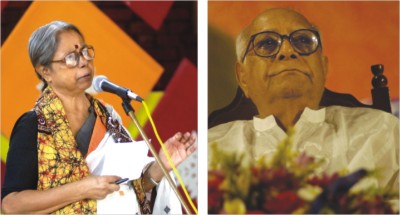 Veteran Tagore singer and president of Bangladesh Rabindra Sangeet Shilpi Sangstha, Kalim Sharafi, along with Tagore exponent and President of Chhayanaut, Dr. Sanjida Khatun, will receive the Rabindra Award 2010. Bangla Academy will honour the two cultural personalities on May 8 with a programme at its premises.
Bangla Academy is introducing this award this year. From now on the award will be given every year on the birth anniversary of Rabindranath Tagore.
Kalim Sharafi will receive the award for his contribution in promoting and preserving Rabindra Sangeet, while Dr. Sanjida Khatun will receive it for her research on Tagore songs.
Both the exponents are iconic figures in the country, considering their roles in the revival of Tagore songs at times of national crises.
The award-giving programme will also mark the 149th birth anniversary celebration of Tagore.
The celebration will also feature a discussion and cultural programme. Poet Mazur-e-Mawla will deliver the keynote paper at the discussion titled "E Ki Shotti?" Professor Hayat Mamud and Professor Akhtar Kamal will discuss on the topic. Information Minister Abul Kalam Azad will be present as the chief guest. Director General of Bangla Academy Shamsuzzaman Khan will deliver the welcome speech. National Professor Kabir Chowdhury will preside over the programme.
After the discussion, a musical programme featuring Rabindra Sangeet performed by noted artistes of the country will be held at the venue.