What price education?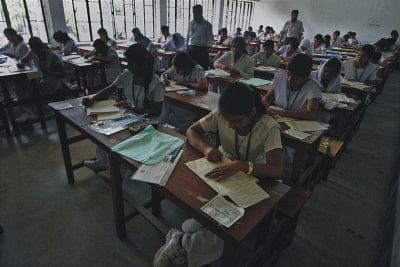 THE finance minister has been holding extensive consultations regarding the priorities and size of the 2010-11 budget to be presented to the Parliament in June. Among many critical concerns, which have strong advocates and deserve attention, the need for education should not get lost.
The right signals must be given in the 2010-11 budget in line with the government commitments, its longer term vision and the education policy objectives, which have raised popular expectations. The new budget is an opportunity to set the tone for the sixth plan (2011-15) and the perspective plan (2011-21) now under preparation.
The ideas that have recently emerged from extensive discussions and discourses regarding education priorities in the new budget, and within a medium-term financing framework, are reasonable and workable and must be considered seriously.
The allocation for education went down to under 2 percent of GNP in the first budget (2009-10) of the new government. Tk.14,000 crore allocated for education is 12.6 percent of the budget compared to around 14 percent in recent years. Setting a negative trend is unacceptable.
The draft education policy has provided a scenario for financing. It has argued that with 6 percent growth of the economy, a 4.5 percent share of GDP, at the least, for public education would provide essential resources for implementing the policy in the next decade. This must be the framework for the sixth plan period; and 6 percent of GNP for public education, endorsed internationally as the minimum benchmark, should be the goal for the perspective plan.
The finance minister has put the likely size of the new budget at around Tk.132, 000 crore. A reasonable size of the education budget, in line with objectives and priorities that have emerged from education discourse, has been estimated to be between Tk.22,000 and Tk.24,000 crores. The lower figure would be under 16.5 percent of the national budget and still under 3 percent of GDP -- a reasonable target to aim for.
It is, of course, not enough to allocate more funds. These have to be used effectively and for the right purposes. Along with incremental provisions for on-going programs, some bold initiatives must find a place in the budget. These include, in respect of basic education:
-A formula based on child population in each upazila, and a coordinated upazila plan from preschool to grade eight should be used for budget allocation. The new budget can provide for experimentation of this decentralised approach in one or two upazilas in each division, involving local government, education stakeholders and community organisations.
-The criteria for quality with equity for children anywhere and in any type of institution, with attention to the deprived -- extreme poor, those with special needs, ethnic minorities, and other marginal groups -- should be developed and applied for budgeting and monitoring expenditures. This should be linked with the upazila-based planning mentioned above.
-To increase learning time in primary schools, mid-day meal, with option of a cooked and hot meal with community and parents' involvement, should be initiated on a substantial scale, with the aim of extending this to all schools within a short time.
-Attracting and keeping talented and capable young people in the teaching profession is a vital necessity for reversing the decline in the quality of education. Educationists have proposed that a proper pre-service teacher education program should be started in at least a hundred degree colleges, making education a concurrent qualification along with the regular degree.
-Talented people should be attracted to the new teacher education program with stipends and assurance of recruitment into a National Teaching Service Corps with attractive remuneration and status. To make this work, the teaching quality and infrastructure of the selected degree colleges must be improved to meet required standards.
-The government pledge to make the country "free of illiteracy" by 2014 is a noble aim that must not be allowed to become a symbolic gesture, which will haunt it with accusations of failure and wastage. The goal should be to bring young adults into a relevant learning program including literacy, further learning and productive skills by promoting a nationwide network of community learning centres. Local government and community organisations should be encouraged to tale the lead in this, and it can be an area of public-private partnership. Rural IT centres and community radio can be linked with these learning centres.
One way of augmenting resources for education is to introduce an education tax along the line of the Indian levy of 3 percent on all taxes (2 percent earmarked for primary and 1 percent for secondary and higher secondary), which is put in a non-lapsable permanent fund.
An upazila education fund in each upazila pooling education levy and other contributions may be considered. The public will not grudge paying a little extra for education, if the funds are used effectively and transparently.
It is not known what the two Ministries of Education are proposing for the new budget. New initiatives including donor-assisted activities, such as the new program for primary education, must come under the budgetary planning framework and should be a subject for public dialogue. The education authorities could have followed the lead of the finance minister in this regard. Perhaps it is not too late to do so.
Dr. Manzoor Ahmed is Senior Adviser at the Institute of Educational Development, Brac University.