22 RMG units hit by unrest
30 hurt as workers clash with cops while blocking roads for hike in salary, perks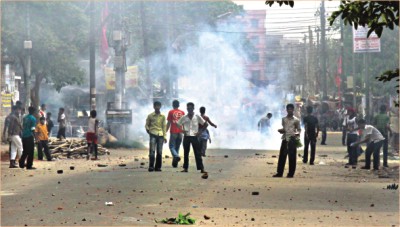 Fresh labour unrest affected production in 22 more readymade garment factories yesterday while the industry has been facing difficulties surviving against power and gas crises, price hike of yarn, poor infrastructure, and low price offers from international buyers amid increased production cost.
Production halted in these factories in Mirpur and Rupganj areas as workers put barricades on highways on the second consecutive day of their agitation for increased minimum monthly wage from Tk 1,662 to Tk 5,000.
At least 30 workers were injured during chase and counter-chase between the demonstrators and police in Mirpur.
The managements of 20 factories situated in Mirpur suspended production when 6,000 workers of Opex Garment Limited, a sister concern of the Sinha Group, put up barricades at Mirpur 13 and 14.
The workers also want a hike in their attendance bonus from Tk 300 to Tk 400.
"It is very hard for a man to maintain his family with just Tk 1,662.50, the amount a helper at our factory get each month. Our demand for hike in wages is a demand of the time," said Laily Begum, a worker of Opex Garment.
Officer-in-Charge of Kafrul Police Station Delwar Hossain told The Daily Star that the workers of Opex Garment blocked the Mirpur street at about 9:30am. Workers of the other garment factories in the area joined the Opex workers.
The workers, however, withdrew the barricades around 11:30am when high-ups of the factory assured them of partly fulfilling their legal demands. The workers did not go back to work.
On Tuesday, at least 38,000 workers of Sinha Group's Kanchpur unit brought out a procession and put barricade at Kanchpur point on the Dhaka-Chittagong Highway for the same demands.
In another incident, workers of Arrow Apparels and Arrow Fashions Ltd in Rupganj blocked the Dhaka-Sylhet Highway around 11:00am.
Buses and trucks remained stranded for hours at the Rupganj point on the highway because of the barricade.
The workers withdrew the barricade around 1:00pm when officials of the two sister concerns of Mohammadi Group assured them of fulfilling their legal demands.
Talking to The Daily Star, Chairman of Sinha Group Anisur Rahman Sinha said he would talk with the workers to fulfil their legal demands.
"The labour unrest is taking place because of a communication gap with the workers. I will sit with them to minimise the gap and fulfil their legal demands," Sinha said.
Labour unrest is no more an isolated incident for any garment factory, he said. A collective effort is a must to control such unrest, he added.
"I have already told Bangladesh Garment Manufacturers and Exporters Association to take steps to quell the unrest in the sector," Sinha said.
Chairman of Mohammadi Group Annisul Huq, who is also the president of the Federation of Bangladesh Chambers of Commerce and Industry, said his factory is not in arrears of salary and overtime. The workers are agitating for increased salary and attendance bonus.
"But, such kind of frequent incidents of labour unrest is a very bad signal to the country as international buyers lose confidence because of it," he said.