Fishes We Eat
Are they free from mercury poison?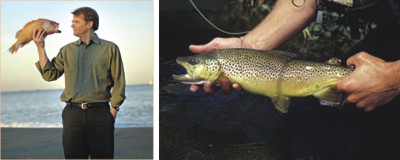 AS an undergraduate student at Dhaka University in 1970, we were learning to measure vitamin A. As a corrosive antimony reagent was being added to the sample held by my lab mate, drops from a defective pipette in my hand were soaking her fingers. In minutes they swelled to the extent to make her scream with severe pain that rushed our teacher into climbing two floors to rescue her. While immersing her hand in one reagent solution after another, Pervez Ahmed Sir explained, antimony was a heavy metal (atomic mass, m, of 122) that made painful reactions with proteins in her hand. I had the lesson for my life: avoid anything 'heavy'!
A toxicologist wrote that one of the reasons of the fall of the Roman Empire was their use of lead utensils in everyday life. Lead is also a heavy metal (m 207). As a child I melted, solidified, moulded in various shapes and chewed lead bids and discs! So I waited for my 'fall'. Last week our Scientific Director came to remind me of a talk on mercury poisoning. I recalled reading President Abraham Lincoln, exposed to excessive mercury through anti-depressant medications, discontinued them after becoming aware of their toxic effect. Much earlier, Sir Isaac Newton was not so lucky; at a late age he became lunatic by tasting all mercury compounds he made! Mercury is a heavy metal (m 201) and I played with it for its shiny and mobile properties. So I decided to attend the seminar.
Toxic effects of mercury can range from skin allergy to immunological abnormalities to fatal injury of brain and kidneys. They are very harmful to pregnant mothers, infants, and growing children causing severe neurological conditions. Our main exposure is from fossil fuel burning, hospital and dental clinic wastes, household cleaning agents and fish. I asked the speaker, Dr. Ed Rau, Director of NIH Mercury Cleanup program: why, after playing with lead and mercury, I do or did not express toxicity? He said the elemental metals in thermometers and fluorescent bulbs are not as toxic as their compound forms. Compounds such as methyl mercury are produced from leached elemental mercury by anaerobic bacteria living under lake, river and ocean. Fish accumulates this methyl mercury. While the elemental form is less toxic, its vapour is extremely harmful. Older buildings were well-ventilated unlike the present energy efficient closed ones. So, risk of exposure to toxic vapour today is more than in the past. The NIH Bethesda, Maryland campus has now been declared "mercury free" by cleaning and prohibiting all forms of mercury.
I asked the speaker: are we the Bangalee fish-eaters at a higher risk of exposure? Maybe, he said. Although half of today's global fish consumption comes from pisciculture, the fish feed is mostly derived from ocean creatures. Therefore, cultured fish may also have high mercury content. I was relieved to know that Tilapia, and the delicious Ilish or Hilsha (US variety) have mercury five to thirty fold lower than the suggested limit of 300 parts per billion. We need to be cautious with Tuna that has very high amount of mercury. Fortunately Shark, that we often do not eat, has the highest. I am not aware of any survey of toxic materials in Bangladesh foods. It can serve as an easy yet useful research topic.
By the way, sodium (m 23), calcium (m 40), iron (m 56), and copper (m 64) are essential metals, not as heavy, for our body but their disproportionate presence creates harmful health conditions. And, the 'heavy' gold (m 197)? It is absolutely useless to the body except as a display of social prominence!
The author, a former Dhaka University teacher, is a biomedical scientist working in the USA.