"LUMIX Click to Fame" reveals 10 finalists
TV programme goes on air from tonight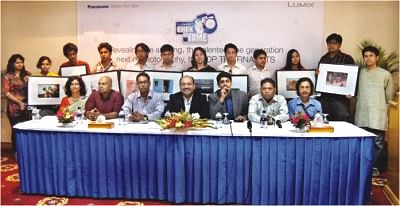 Names of the 10 finalists of the first ever reality show on photography, "LUMIX Click to Fame", were announced at a programme held at the Hotel Sheraton yesterday. The 10 finalists will now compete for the top prize on a television programme that will run on Channel i from tonight. The programme will be aired at 11:30pm on Fridays.
The ten finalists are -- Mohammad Moniruzzaman (Dhaka), Tania Shukrana (Mymensingh), Raisul Islam Tamim (Dhaka), Md. Mainur Hossain (Comilla), Faisal Azim (Chittagong), Naima Parveen (Chittagong), Md. Farhad Rahman (Dhaka), Nurun Nahar Nargish (Sherpur), Pranabesh Das (Sylhet) and Afzal Ibne Nazim (Dhaka).
The TV round will have the finalists battle it out in both indoor settings and outdoor expeditions across the country.
The Grand Winner will receive a Lumix GH1, a cash reward of Tk 1,50,000, will be the brand ambassador for Panasonic Lumix, get the opportunity to have a photo exhibition and internship in two leading magazines.
The jury board for the competition includes renowned photographers Munira Morshed Munni, Dr. Md. Rashid-un-Nabi (EFIAP), Hasan Saifuddin Chandan (EFIAP) and Khademul Insan. Veteran photographer Anwar Hossain will be the online judge of the event.
The event started from March 16 with registration. The second phase of the competition included a three-day exhibition featuring 100 photographs that have been chosen from 6500 entries. The exhibition was held at the Russian Centre of Science and Culture, Dhanmondi from April 12 to 14.
Advertising agency MACOMM has conceptualised the event.