Stimulus for Aus farmers
Govt to spend Tk 26cr to help marginal farmers, others to recover from Boro loss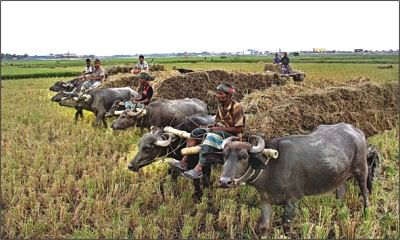 The government yesterday launched a Tk 26 crore stimulus package for marginal farmers to boost the upcoming Aus production and recover the losses in Boro season due to recent flash floods in some districts.
The floods in greater Sylhet, Kishoreganj and Netrakona damaged around 1.56 lakh metric tons of Boro crops in 40,000 hectares of land, said Agriculture Minister Matia Chowdhury at a press conference at the ministry yesterday.
She said the ministry has already disbursed Tk 25.96 crore to deputy commissioners of 51 districts to distribute it among 3,46,100 small and marginal farmers.
Under the stimulus package, which is the first ever for Aus production, each farmer would get 20kg of urea, 10kg each of TSP and MOP fertiliser per bigha of land for free, she said.
"With this package, 1.16 lakh metric tons of additional Aus will be produced which will help largely to overcome the boro loss," said Matia, adding that it was not possible to meet the losses in haor area without the stimulus package.
The minister warned that negligence and anomalies in distributing fertiliser among the farmers would not be tolerated.
She said a list of affected farmers of the haor area has been prepared so that the government can provide them with necessary assistance for the next year's boro cultivation.
The agriculture minister also gave assurance of good price for Boro crops this year and said the prime minister would monitor whether the farmers are getting fair price.