The actor going places
One-on-one with Mosharraf Karim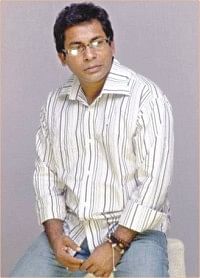 After his outstanding and moving performances in TV plays like "Houseful", "420", and the super-hit film "Third Person Singular Number", Mosharraf Karim has found a niche in many a heart. Recently, this talented and spirited actor had a chat with The Daily Star on titbits of his career and his life off the glare of the camera.
What are you currently busy with?
Mosharraf Karim: I am working in "Fifty-Fifty" on Banglavision, "Sms" on ntv. I am also appearing in a one- hour drama "Noshto, Kostho", "Shukh", and in the serial "Putul Khela" and more.
How did you spend Pahela Baishakh in your youth?
Mosharraf Karim: Well, when I was younger, things were different. I used to plan up for this special day from long before. Throughout the whole month of Baishakh, I would roam around in melas (fairs). Where I come from, Gouranadi, Barisal-people are really festive there. I spent some of my best early days during the Bengali New Year there.
"Third Person Singular Number" is still making ripples among the Bengali community worldwide, with awards still flooding in from all over. How does it feel to be part of this movie?
Mosharraf Karim: It feels great. I had fun acting here. The whole experience was amazing.
What your first experience in front of the camera like? Were you nervous?
Mosharraf Karim: I was not apprehensive. It was irritating. That was around 1999/2000. I didn't know the name of the different shots in front of the camera. There was no feeling of joy, and I would get annoyed very often. However, all that has changed now. I no longer get irritated (there was a hint of smile) Now I love and enjoy my work!
What advice would you like to give to the upcoming young stars who are choosing acting as a career?
Mosharraf Karim: No advice. I will just tell them and not only them but everyone, to pursue their dreams. Do what you are good at and comfortable with, which could be anything.
You have been a part of theatre. What were your experiences like on the stage?
Mosharraf Karim: From the early 1990's to around 2005/ 2006 I had been involved with the theatre and had also been in the troupe Natyakendra. The experience has been amazing. It's a brilliant feel to be on the stage.
Which period of your life do you miss?
Mosharraf Karim: Probably the time from Class VI-X. Life was different then, with friends, family, etc.
What do you like to do most when you do get some free time?
Mosharraf Karim: Listen to music, ghazals, Rabindra Sangeet, folk, contemporary, etc. gossip---all the casual.