World Health Care Congress ends in US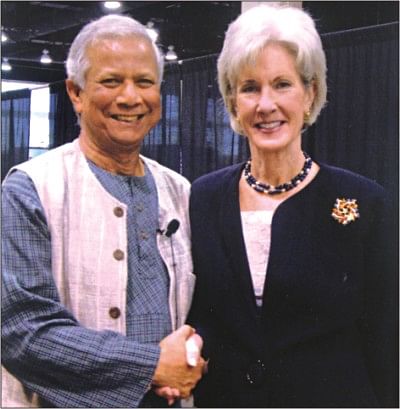 The 7th World Health Care Congress ended in Washington DC on Wednesday where Nobel laureate Prof Muhammad Yunus was invited as a keynote speaker.
Prof Yunus also called on US Secretary of Health Kathleen Sebelius on the sidelines of the congress on April 12, according to a message received yesterday.
In the congress held from April 11 to 14, Prof Yunus elaborated his thoughts on how to bring the state-of-the-art healthcare in an affordable way to the poorest people through social business.
The congress featured the first post-reform gathering of the top healthcare executives from all industry sectors.
US Secretary of Health Kathleen Sebelius, US Department of Health and Human Services Governor Edward Rendell, Pennsylvania William C Weldon, chairman and CEO, Johnson & Johnson, Ron Williams, CEO of Aetna, David M Cordani, president and CEO, CIGNA Corporation, Douglas W Elmendorf, director, Congressional Budget Office, Clayton Christensen, Harvard Business School, George Halvorson, chairman and CEO of Kaiser Foundation Health Plan and Hospitals, attended the summit of 1,800 senior leaders.
Held at the Gaylord National Resort, the congress held detailed discussions on health plans, health IT and interoperability, pharma and biotech.
Besides, the conference featured a special exhibition on affordable health innovations from around the globe.
Innovations include a low-cost diagnostic tool that puts the power of a lab into a postage stamp-sized piece of paper, a video game that helps youths with cancer better fight the disease and a Brazilian company that is helping the hearing impaired to hear through solar-powered hearing aids that cost just a fraction of what regular hearing aids do.