Rescuers struggle as China quake toll tops 600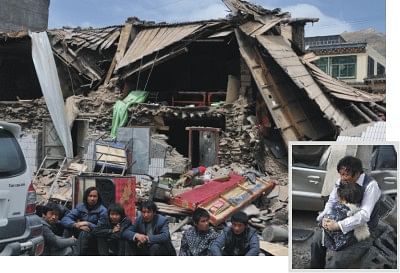 Emergency teams have been pouring into western China's Qinghai province, a day after a deadly earthquake devastated the mountainous region.
Thousands of homeless and injured people await relief.
Officials say 617 people died and 9,980 were injured when the tremor hit early on Wednesday - 313 remain missing.
Rescuers tore at the rubble with their bare hands and shovels, as emergency convoys battled through sandstorms and sleet to disaster-hit Yushu county.
Chinese Prime Minister Wen Jiabao has arrived in the area to see the relief operation, state media reports.
AFTERSHOCKS
"Freezing weather, high altitude and thin air have all made rescue efforts difficult," Hou Shike, deputy head of China International Search and Rescue, told official news agency Xinhua.
Snaking rescue convoys rumbled in the early hours of Thursday along the 1,000-km (620-mile) highway separating Yushu from the Qinghai provincial capital, Xining.
As well as the remote location, which sits at an altitude of around 13,000ft (4,000m), more logistical problems were posed by aftershocks.
The quake also knocked out phone and power lines and triggered landslides.
Survivors shivered through Wednesday night in the open as temperatures fell below freezing.
In the township of Jiegu, 85% of buildings have been destroyed, officials say.
Several schools collapsed and at least 66 pupils and 10 teachers were among the dead, Xinhua reported. Emergency workers were seen removing dust-covered dead infants from rubble.
State broadcaster CCTV showed anxious parents waiting overnight outside Yushu Vocational School, where 22 students, mostly girls, were reported dead.
The flattened schools echoed scenes from the quake that hit neighbouring Sichuan province two years ago, leaving nearly 90,000 people dead.