Sania, Shoaib tie knot early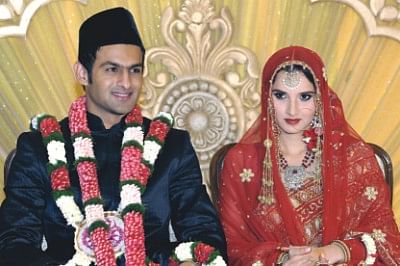 Indian tennis star Sania Mirza and Pakistani cricketer Shoaib Malik tied the knot yesterday, ending days of controversy and drama surrounding their high-profile wedding that took place three days ahead of original schedule.
The 23-year-old Sania and 28-year-old Shoaib originally planned to marry on April 15 but there was speculation that the date would be advanced after the tumultuous build-up.
"The nikah has now completed. Please pray for the couple," Sania's spokesperson Rucha Naik told reporters here.
Decked in a red saree, which her mother Nasima wore in her nikah 25 years ago, Sania thus became the second wife of the Pakistani cricketer, who divorced his first wife Ayesha Siddiqui last week after much mud-slinging.
Shoaib, a former Pakistan captain, wore a black sherwani designed by Shantanu and Nikhil for the nikah ceremony held at hotel Taj Krishna.
The 'Haq Mehr' (dower money) kept in the nikah was a staggering 61 lakh rupees.
Shoaib's brother-in-law Imran Zafar told this news agency that the ceremony had been a simple one with only 15 relatives of Malik and around 35 members of Sania's family attending the function.
"We kept it a simple affair. We are now relieved that marriage has finally taken place after so many controversies," Imran said.
"We had to obtain the photocopy of Shoaib's passport from the Hyderabad police for the nikah ceremony as his passport is still in the possession of a court," he said.