Poverty ascent and descent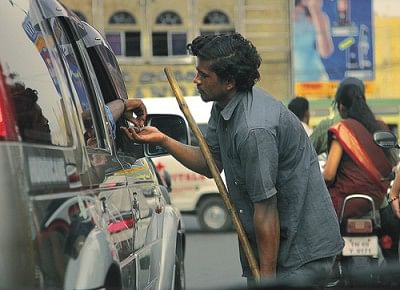 BANGLADESH rightly claims to have made "modest" progress in alleviating both income and non-income poverty over time. The modest rate could be turned into "considerable" if the poverty elasticity with respect to growth rate had been higher. However, while there is a plethora of research papers on the levels and determinants of poverty, there seem to be very few that deal with poverty-dynamics. If I am not wrong, the maiden attempt to do so was made by Dr. Binayek Sen and D. Hulme a few years back. Of late, however, Mahabub Hossain and Nigar Nargis delved into the dynamics using panel data of rural households spanning from 1987 to 2007.
Mobility and malleability
Landlessness is growing acute, with the proportion of such households rising over time -- from 47 percent in 1988 to about 60 percent in 2007. On the other side of the spectrum, the share of land-holding households had halved during the same period. Both trends seemingly point to pauperisation. The average size of owned land per household dropped from 0.61 ha to 0.47 ha.
The panel data show that a vast majority of households that were functionally landless in 2000 remained so in 2007; only about 10 percent of them could make an upward transition to become small and medium landowners. Among the medium and large landowners (over 1.0 ha), roughly one-third became small and functionally landless; the rest retained their earlier position.
The highest mobility is found in the case of the marginal landownership group (0.2 to 0.4 ha). In this group, a little over half retained their position, one-fourth had downward mobility and about one-fifth had upward mobility. The agricultural sector now provides livelihood to 50 percent of rural workers against 65 percent in 1988. Agricultural labour households declined from 25 percent to 19 percent. The research also reveals that half of the heads of rural households shifted the sector of primary occupation during 1987-2007, indicating substantial occupational mobility in rural Bangladesh in the medium and long-run.
Poverty up, poverty down
The poverty rate was estimated at 47 percent from the data from a 2007 survey. It is definitely less than the levels of the 1970s or the 1980s, but 4.4 percent more than the 2004 level. The latest increase is attributed to sharp increase in food prices, especially of rice, in 2007. Since the low-income households spend almost half of their income on rice, the economic situation deteriorated for those who could not adjust their income.
The increase in poverty was higher on account of households that are on the poverty threshold, as shown by the sharp increase in the index for moderate poverty. The index of extreme poverty declined even during this period, although at a smaller rate. This could be due to various safety-net programs targeted for this group.
Ascent and descent
Almost 10 million rural households (30 percent of the total), with 56 million people, seem to be trapped in poverty. That is, they were unable to rise above the poverty line (always poor) over 1987-2000. This measure of chronic poverty improved to 21 percent in the following four years, but deteriorated again to 28 percent in 2007. Thus, it can be argued that chronic poverty or poverty trap afflicts one-fourth to one-third of the rural households, leaving no light at the end of their long economic tunnel.
However, as reported by researchers, the rate of exit from poverty is more than twice as high as the rate of entry into poverty over 1988-2000, and almost 50 percent higher during 2000-2004. Unfortunately, the situation worsened with more moving in than moving out during the last leg of 2004-2007. The importance of maintaining stability in the price of staple foods for economic stability of low-income households is demonstrated by the sharp impact of the recent food crisis on poverty.
By and large, and including the transitory poor with the chronically poor, almost two-thirds of the households passed through poverty at some time or other. On the other hand, about half of the households reported that they had never been struck by poverty (always non-poor), compared to 29 percent from the objective analysis for the 1988-2000 panel, and 36 percent in the 2000-2007 panel. The qualitative response shows that about 20 to 25 percent of the household moved in and out of poverty due to shocks experienced by economic turmoil and natural disasters. Their livelihoods are mostly led by "luck."
Why ascent or descent?
Poorer households experienced larger percentage income gain than the richer households, leading to gradual convergence of income across households over time. This finding is in line with the evidence of partial conditional convergence of income found in other developing countries as well, such as Indonesia, South Africa, Spain, and Venezuela.
Income growth is conditioned by, in order of magnitude, number of members working abroad, increase in accumulation of land, increase in the number of earning members in the non-farm sector, accumulation of non-land assets, and increase in the number of agricultural workers. Each additional year of schooling of earning members added about three points faster growth in income over that period.
The descent (downward economic mobility) is mostly due to demographic (large household size) and health and natural disaster related shocks. Households that experienced external shocks, natural or man-made, had 23 percent negative growth in income during both periods.
The events that may trigger movement to above poverty line within the rural livelihood system include increase in endowments of factors of production, occupational and geographic mobility, improved physical infrastructure, and changes in household demographics. Conditional on the initial endowments of natural, human and physical capital, households are expected to stride out of poverty as they shift from farm to non-farm activities; their earning members acquire more education and skill and gain access to improved technology and infrastructure.
Among significant differences in the initial endowments are the following. The movers during 1988-2000 had larger average initial landholding (0.36 hectares) than the chronic poor (0.25 hectares); greater amount of initial agricultural capital ($93 compared to $68); much greater amount of initial non-agricultural capital ($83 compared to $28); more non-agricultural workers (0.62 persons compared to 0.42 persons) and higher average education of workers (3.58 years compared to 1.72 years).
The incidence of negative shocks was less for the movers than the chronic poor. Negative income shock may contribute to the persistence of poverty in several ways. First, it may lead poor households to disinvest assets that they could have used as collateral to access the formal credit market. It can in turn undermine their capability to accumulate capital. It is evident that the increase in either agricultural or non-agricultural capital was negligible for them over the period of observation.
In the event of negative income shock, poor households may cut down expenditure on nutrition, health, and education, to the utter negligence of human capability needs and to the detriment of the likelihood of moving out of poverty in the longer run. We find that the chronic poor households started out from a comparatively disadvantageous position with a very low average level of education of earning members.
The movement of agricultural labourers into tenant cultivation fell short of enhancing the probability of exit from poverty partly due to the unfavourable terms of trade of agricultural products during the period under observation. The unequal distribution of operational landholding might yield increasing returns to large farms only.
Occupational mobility of the labour force from farm to non-farm-based activities has traditionally been rewarding in enhancing the growth of rural household income. How far such dynamism in the rural livelihood system has contributed to poverty alleviation has remained far from understood.
Abdul Bayes is a Professor of Economics at Jahangirnagar University. E-mail: [email protected].