Vignettes of Liberation War
Photography exhibition of veteran journalist and freedom fighter Haroon Habib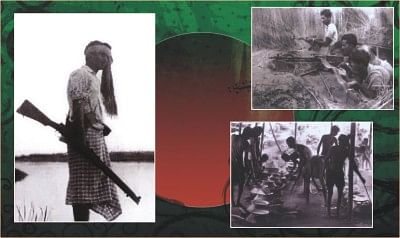 A cowherd tending his flock on a green field is a very common sight in rural Bangladesh but if one looks closely, this image has an unexpected twist -- the cowherd is carrying a gun. The photograph taken in 1971 is among many on display at the National Art Gallery, Bangladesh Shilpakala Academy as part of the ongoing solo photography exhibition of veteran journalist and Freedom Fighter Haroon Habib. Titled "Muktijoddhar Camera-e Muktijuddho 1971," the exhibition opened on March 25. The event has been jointly organised by Bangladesh Shilpakala Academy and Ekattur-er Jatri.
The exhibition features a total of 100 photographs taken and some collected by Habib during the Liberation War.
"If we look back at 1971, we'd see a war which was won by the ordinary people. Villagers, students and civilians with no military background, took up arms without a second thought," said Habib.
In 1971 Habib was studying Journalism at Dhaka University. After the war broke out he went to Meghalaya (India) with a group of 150 to train for combat.
Because of his background in journalism, Habib worked as the wartime correspondent for Swadhin Bangla Betar Kendra and Jai Bangla, a newspaper published by the then Mujibnagar Government.
"Alongside taking part in guerrilla operations I used to travel with my camera," Habib said. The photographer was able to document Freedom Fighters in training, engaged in combat with the Pakistani forces, surrendering of Pakistani soldiers, mutilated bodies of freedom fighters and villagers as they were tortured to death by the Pakistani army and their collaborators.
One of the pictures shows a meeting between Pakistani soldiers and members of the "peace committee". The photo was collected by Habib from Sherpur, after the area was freed.
Habib used to visit the refugee camps in India. During the war, millions fled to India and took shelter in these camps. A rare photograph shows Indira Gandhi visiting one such camp in Tripura.
Even during a war life goes on. A picture shows people taking part in the Eid prayers in 1971.
Some photographs showing Indian soldiers taking part in joint operations demonstrate the manifold cooperation from the neighbouring country.
As they realised that the war is lost, the Pakistani forces demolished infrastructures while fleeing in an effort to slow the progress of the country. A picture of a destroyed rail bridge in Mymensingh by the Pakistani army remains witness of that.
"I hope that this exhibition will contribute in making people aware of the true history of the war and educate the post-war generations," said the photographer.
The exhibition will end on March 31. Air Vice Marshal (Retd) A.K. Khandaker, Planning Minister, inaugurated the event.