Grabbers feast on Cox's Bazar hills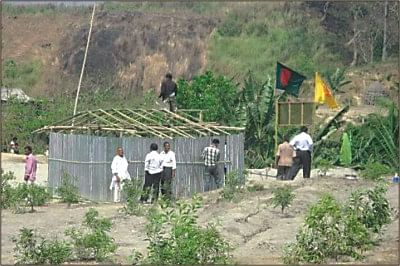 Different groups under real and fictitious banners are seen in a race for grabbing hill land in Cox's Bazar district town.
They are flattening the hills and fencing off the hill land. Indiscriminate cutting of hills is posing a threat to the ecological balance as the soil from the hill cutting is filling up the canals, drains and the Bakkhali riverbed.
A certain quarter on Sunday around 11:00am occupied a hill area at Kolatoli in the town. By afternoon, some 20 to 30 workers built two corrugated tin-shed houses there and put up a signboard inscribed with "Office of Bangladesh Freedom Fighters' Rehabilitation Society". They hoisted the national flag and the flag of Bangladesh Muktijoddha Sangsad.
Hasina Begum, 41, of Chakoria was allegedly playing the lead role in the act.
On information, district command convenor of Muktijoddha Sangsad Capt (retd) Abdus Sobhan, joint convenor Md Shahjahan, former mayor of the municipality Nurul Absar, Jhilongjha union parishad Chairman Mujibur Rahman and some local freedom fighters went to the spot around 2:00pm.
They requested Hasina Begum to refrain from occupying the hill and erecting structures using the banner of freedom fighters. Hasina paid no attention to them and asked the workers to continue the work.
Md Shahjahan of Muktijoddha Sangsad said there was a separate housing proposal for freedom fighters and it was now under consideration of the government.
The image of freedom fighters would be tarnished if their names were exploited for land grabbing. The government's reputation will be on the line too.
Shahjahan added Hasina Begum was never involved with Muktijoddha Sangsad.
However, Hasina said the land was proposed to be used for Bangladesh Freedom Fighters Rehabilitation Society during the four party-led government's rule.
"There is a conspiracy to grab the land. We are just taking control of the land. In it there is nothing to tarnish the image of freedom fighters or the government, " she said.
Sajed Ali, president of Class-III Employees Association at Cox's Bazar district collectorate office, said, "The proposed land for Bangladesh Freedom Fighters Rehabilitation Society is about one and a half kilometres away from this piece of land now being grabbed. It is indeed allocated for Government Officers-Employees Housing Project. There is a High Court stay order against building any structures on the land."
Local freedom fighters, government employees and the grabbers had been locked in an altercation for about two hours. Forest Department officials reached the spot around 5:00pm and demolished the houses built there.
Cox's Bazar Divisional Forest Officer Saidul Islam confirmed the incident and said whoever the owner, nobody has any right to cut or grab hill.
Sources said more than 1,000 dwelling houses and business firms have been built on about 700 acres of Forest Department's land in different places including Kolatoli, Larpara, Bus Terminal, Pahartoli, Bypass Road, district jail and City College areas. At least one lakh people are living in those houses.
A forest official requesting anonymity said the grabbers could not be evicted from the hills even after filing more than 50 cases against them. Many grabbers have obtained stay order from High Court against eviction.
Cox's Bazar municipality Mayor Sarwar Kamal said, the Bakkhali River has become unfit for use due to indiscriminate hill cutting. Engine boats, which earlier plied across the river, now cannot use the route due to emerging chars following silt storage in the riverbed.
The earth from hill cutting came down the drains and caused water stagnation, he added.
Md Rafiqul Islam, an official of Directorate of Environment at Cox's Bazar, said under the Bangladesh Environment Act, construction of illegal structures and cutting of hills are banned in the sea beach and adjoining ecologically endangered areas.
Cox's Bazar Superintendent of Police Gias Uddin admitted that different groups under different banners were grabbing land in the district. A few of them have been evicted recently, he added.