REHAB fair ends with commitment to lower cost urban housing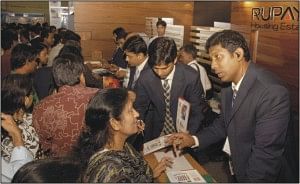 Real estate companies yesterday pledged to develop lower cost urban housing solutions in order to meet the growing demands for affordable homes in the capital.
"This is the right time to shift our focus to lower cost apartments instead of luxury flats," said Mohammad Zakir Hossain, senior sales executive of Rangs Properties.
According to Hossain, developers are now planning most of their new projects targeting middle class people who make between Tk 20,000 and Tk 40,000 a month.
Talking to The Daily Star on the final day of the 5-day housing fair organised by the Real Estate Housing Association of Bangladesh, Hossain said his company currently has no apartment of less than 1450 square feet in size. However, the management is planning new projects to meet the growing demands for smaller flats within the price range of Tk 15 lakh to Tk 20 lakh.
A number of factors, including soaring construction costs and the government's drive against black money, have contributed to a sharp
fall in the sale of apartments, which are down around 50 percent so far this year, according to REHAB.
Hossain said proper urban policy and the right public infrastructure are necessary to build lower cost housing, especially in the suburbs.
"The land price in the central areas of big cities is so high that it is often hard to keep the apartment price low. If the government builds proper infrastructure like highways and a good public transport system, developers will start to build lower cost housing projects in the suburban areas," he said.
Eastern Housing Ltd, a developer of plots for urban housing, said it didn't have any more land plots to sell.
"All the plots in our land projects are sold out. We are now introducing two new mid-sized apartment projects in the capital's Kamalapur and Panthapath areas," said Mohammad Farhaduzzaman, assistant manager of the company.
Aminul Islam Tareq, senior marketing executive of Rupayan Housing Estate Ltd, said the company had received a huge response from
potential customers at the show.
"The response was more than expected, thanks to our newer projects in Uttara and Mirpur," he said, adding that Rupayan recently started building smaller apartments to attract customers from mid-income earners who cannot afford to pay more than Tk 30 lakh.
Despite the slump in the real estate sector, there was little evidence of a lack of enthusiasm among the crowds at the jam-packed fair.
While the focus was on the lower cost solutions a few luxury developers could be found, one such being Building Technology & Ideas (bti) Ltd, who said their primary focus would still be on luxury living.
"We just got approval for 10-storied projects in Gulshan and Banani areas under the Building Construction Rules 2007. Our focus still remains on exclusive privacy, environmental friendliness and more space," said an executive of the company.