Lafarge regional boss due today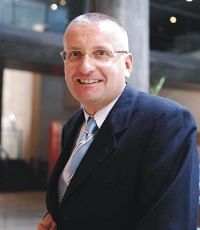 Martin Kriegner, regional president for Asia Region of Lafarge and chairman of Lafarge Surma Cement Ltd, will arrive in Dhaka today, says the company in a statement yesterday.
During this official visit, he will review business and strategies of Lafarge Surma Cement in Bangladesh and meet senior government officials.
He also plans to interact with the board members as well as the staff of Lafarge Surma.
Kriegner, graduated with a Doctorate of Law from University of Vienna and an MBA from University of Economics in Vienna, joined the Lafarge in 1990 as assistant to the chief executive officer of Lafarge Perlmooser AG in Austria and became the chief financial officer in 1995. In 1998, he was appointed as the chief executive officer.