International Women's Day Special
Tarana Halim: Making a difference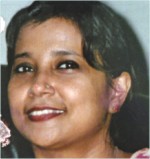 Noted actress, lawyer, playwright, TV show host and director Tarana Halim has conquered many territories in the world of art, culture and politics. As a member of the parliament, she has set out to conquer the anomalies, discrimination and corruption that pervade our society and politics. Recently she shared her thoughts with The Daily Star on a host of issues:
What made you consider politics? How does this dovetail with your role as a social worker?
Tarana: The very reason I went for politics is because I needed a footing for the things I have been fighting against such as corruption, iniquity, etc for so long.
As a policy maker it helps me to be vocal on the issues of women and children.
I used to think about these issues quite seriously right from the time I was a university student and since then I have been fighting for the enactment of an anti-violence act, regarding custody of children. My small contribution towards developing public opinion and raising consciousness amongst the masses was highlighting women's issues through TV plays.
When I got active in politics, I thought that if I could get a footing to bring these issues out through this area, then that would strengthen my cause.
I know I belong to a party, but I have my conscience; I will speak the truth, I will talk of humanity, and for the people of Bangladesh.
Then came the question in my mind: Have I been successful?
My first attempt-to introduce free lunch in schools as a means to reduce the dropout rate was welcomed by the ministers. They are seriously considering its implementation and it will be introduced soon. Next was a help-line for kids.
I am also working on the Domestic Violence Act vigorously.
Now I am pursuing the issue of safety on the roads, and amending the punishment. If the victim dies due to negligence then I have proposed that the term be extended to life imprisonment.
I had proposed the introduction of consultants in educational institutions to decrease the rate of teenage suicides and suicidal tendencies. Often kids cannot confide to their parents, and need a third person to share their problems with.
Do you think women have been given their due in politics? What impact can women have in this field?
Tarana: No. There are 50/60 nominations from every political party. All should be through popular voting. So there is no specific area for selected women to work. You can say we are floating.
On the other hand, the women members are very vocal. That's quite positive.
I also try to do my homework before I speak in the parliament. We learn from our mistakes -- this participation itself is very positive.
How do acting, hosting TV shows and directing go together with politics?
Tarana: For me these are very different scenes. When I concentrate on something, I want to achieve it. I have stopped acting and practicing law for the last five years so that they don't conflict with my interests as an MP.
If for instance, my work in the Parliament does not continue after five years, then maybe I will revert to practicing law. Maybe I will continue writing. As a voice of the masses in particular, writing is my main ammunition.