Selected extracts from the March issue of Forum
Making Dhaka livable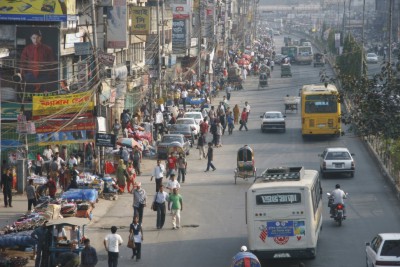 DHAKA city's traffic congestion has reached nightmare proportions. Unless corrective actions are taken soon, there is a risk that this could sharply reduce the city's productivity. In view of Dhaka's dominance, this could reduce the incentive for domestic and foreign investment and pose a serious threat to the country's growth momentum.
However, an approach to resolving the traffic problem alone may at best bring short-term relief. The traffic mess is simply a reflection of the deeper problem of poor city management. So, a longer-term sustained progress in the traffic situation requires a holistic approach to improving the overall city management that aims at making Dhaka more livable.
The Dhaka City Challenge
With a population of almost 13 million, Dhaka Metropolitan City is the 16th largest city in the world. At the same time, it is consistently ranked as one of the world's least livable cities. Although income growth is higher and the poverty incidence is lower than the rest of Bangladesh, Dhaka still is a low-income city with large numbers of poor when compared with most mega-cities of the world.
Holding the prospects for better income opportunities than most parts of Bangladesh, rapid migration is causing Dhaka's population to grow much faster than the rest of the country. This fast urbanisation is putting pressure on the city's limited land, an already fragile environment, and weak urban services.
Poor city management, low efficiency, and pervasive corruption are exacerbating the problems. Traffic congestion has become unbearable, creating huge delays in covering small distances. There is an increasing risk that the central city may soon get divided into "islands" with little or no connectivity with each other, creating huge loss of productivity and high transaction costs. Water and air pollution from poor waste and traffic management poses serious health risks. The already acute slum population is growing further, contributing to serious human and law and order problems.
It is obvious that actions to ease the traffic congestion, to ensure an adequate supply of basic services, and to tackle corruption and wastage are needed immediately to avoid a choking of the city's well being.
Importantly, the growing disparity in living standards in Dhaka between the surging slum dwellers and the conspicuously consuming well-to-do urban elite may lead to increased social and political instability. Evidence from around the world has shown that cities that are unable to address such large inequalities in living standards are more likely to face violent events than those that are less polarised.
Main Constraints
International experience shows that the performance of a city is strongly correlated with the underlying city governance. This is hardly surprising. A city's governance essentially involves a sound legal framework assigning rules of business, responsibilities and accountability; a well-defined management structure; clear assignment of responsibility and accountability, and adequate coordination among concerned agencies; financial autonomy; and voice and participation by beneficiaries.
Legal framework: Dhaka is governed by a city government known as the Dhaka City Corporation (DCC). The legal framework for Dhaka city has evolved in an ad-hoc manner rather than through a systematic approach based on a careful assessment of the effectiveness of the city government in providing required services. This lack of a vision and a road map are major weaknesses of the legal framework. Consequently, the functions of the DCC are not clearly defined; the enabling environment for implementing these functions is weak; and a multiplicity of service agencies often with overlapping mandates have emerged.
Management structure: The DCC suffers from the same centralised management structure as the national government. All authority is vested with the mayor, who in turn is heavily dependent on the government for rules of engagement, and most importantly for finances. The remainder of DCC members, especially the ward commissioners, have little authority and consequently have limited effectiveness. Inevitably, this has led to heavy politicisation of the mayor position, which basically tends to function as an agent of the government in power.
For the full version of this article please read this month's Forum, available free with The Daily Star on March 8.
Sadiq Ahmed is Vice Chairman of the Policy Research Institute of Bangladesh. The article draws heavily on the book "Making Dhaka Livable" which he co-authored with Junaid Ahmad and Adeeb Mahmud. The book was published by UPL, Dhaka in 2007.