Spoon-billed Sandpipers roam freely
Find food, roost in Teknaf, Sonadia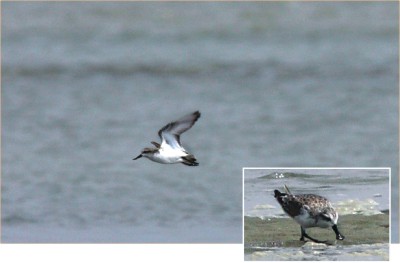 Small groups of globally endangered Spoon-billed Sandpiper arrived on the mudflats of Badar Mokam in Teknaf and Belekerdia of Sonadia Island at least three years ago. Anyone with binoculars can sight these rare birds still feeding and roosting at the edge of water.
A team of observers has seen the birds recently during a survey in Cox's Bazar. The birds along with other migratory shorebirds, gulls and terns apparently have made these places their winter home.
Several species of rare sea turtles come to the very same places to lay eggs.
Spoon-billed Sandpiper is a sparrow-size bird with a strange spoon shaped bill. In summer it breeds at Chukotka in Russia, and in winter it lives in the coastal regions of Bangladesh, Myanmar, Thailand, China, Korea and Japan. Its global populations have plummeted to mere 200-250 for reasons yet unknown.
An international team of observers studied these birds at the coast of Bangladesh in 2006 and in Thailand and Myanmar in subsequent years. Their two largest winter population has been seen at the coast of Noakhali, Chittagong and Cox's Bazaar, and in Myanmar next to Bangladesh border.
Little, however, has been done to conserve the places the endangered bird and turtles need in Bangladesh for survival.
With a newly built jetty, Badar Mokam has become a landing station of cattle from Myanmar. The dead cow thrown in water regularly land on the mudflat where Spoon-billed Sandpipers live. Packs of stray dogs fattening on dead meat now perpetually live there to scare the birds and threaten the turtles.
Bird habitat in Belekerdia, although undisturbed as yet, faces the threat of wholesale destruction if Sonadia is chosen as the site of country's deep-sea port.
Bangladesh has declared the coasts of Teknaf and Sonadia ecologically critical areas. The Ministry of Environment and Forest runs the Coastal and Wetlands Bio-diversity Management Project ostensibly to conserve these areas.