Int'l theatre festival by Dhaka Padatik from March 19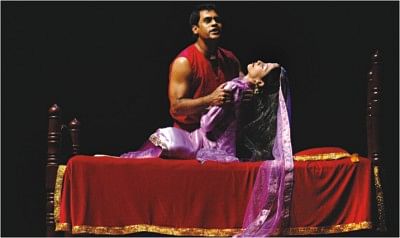 To celebrate its three decades, Dhaka Padatik will arrange a weeklong international theatre festival from March 19. Featuring reputed local troupes alongside teams from India and Switzerland, the festival will be held at the National Theatre Hall, Bangladesh Shilpakala Academy.
Information Minister Abul Kalam Azad is expected to inaugurate the programme. Delegates from the participating countries will grace the occasion, according to the organisers.
Apart from Dhaka Padatik, Bangladeshi participating troupes are Dhaka Theatre and Natyakendra. Sanglap-Kolkata and Lokokrishti (both from India), and Mummenschanz (Switzerland) will stage their productions at the festival.
Dhaka Padatik will stage its latest production "Baichya Chorer Kissa", while Dhaka Theatre and Natyakendra will stage "Dhaboman" and "Dalim Kumar" respectively. Both Indian troupes will stage two plays each.
A fifteen-minute demonstration featuring folk songs and dance will be the highlight of the inaugural programme, informed Golam Kuddus, president of Dhaka Padatik.
On the last day (March 25), two deceased activists of Dhaka Padatik -- Gazi Zakir Hossain and Abul Kashem Dulal -- will be given posthumous honours.
Dhaka Padatik started its journey in 1980. So far, the troupe has produced 34 plays.