Protect your car through vehicle tracking system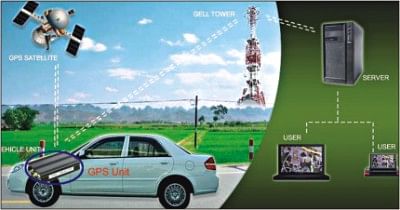 Monitoring and safeguarding any vehicle is now possible from anywhere in the country.
NTrack Vehicle Tracking System is a state-of-the-art service which enables anyone to track a vehicle or a fleet to ensure better security of vehicles by reducing auto-theft which has been an alarming issue these days in major metro areas, says a press release.
With this service, anybody can even switch off their car from a remote location. One only requires a GPRS enabled handset and a Banglalink data package to go to internet to monitor the vehicle live.
Banglalink and NITS Service Pvt. Ltd., a sister concern of Nitol-Niloy Group, signed an agreement on September 9 last year to jointly promote the NTrack Vehicle Tracking System. A special discount of 20 percent on device price and yearly service charges will be provided to Banglalink users.
Some of the major features of NTrack are -- Live tracking with street level mapping that will display address, speed and direction of the vehicle, SMS alerts for crossing speed limit, reaching pre-defined location, unauthorized route, remote security control and shutting off engine to protect theft, a web interface to track down the vehicle throughout Bangladesh, fuel cost and mileage reports and arrival and departure reports.
Dhaka Metropolitan Police (DMP) HQ also has a monitoring tool at their end for NTrack by which they will be able to monitor any stolen vehicle if the device is installed in that car.