Bayern's streak ends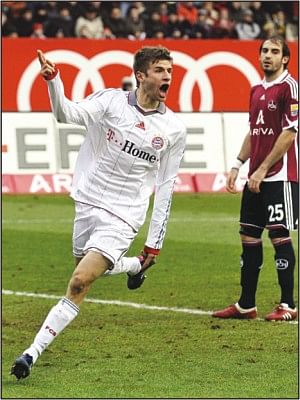 Bayern Munich coach Louis van Gaal said he was chasing trophies, not records, as the German giants' 13-game winning streak came to a shock end on Saturday with a 1-1 draw against local rivals Nuremberg.
The result propelled Bayern to the top of the Bundesliga, one point ahead of unbeaten Bayer Leverkusen, who could yet overhaul van Gaal's men when they take on sixth-placed Werder Bremen on Sunday.
The 21-times German champions failed to secure a 10th straight league win that would equal a Bundesliga record but van Gaal dismissed this as irrelevant.
"This is not decisive. What is important is what happens at the end of the season, not what happens this weekend," said the autocratic Dutch coach.
A visibly furious van Gaal defended his side, saying: "I think this was one of our best performances of the season. We created several chances. We just didn't score a second goal."
"Nuremberg had one chance. They then played with all 11 players in their own half. We were very dominant and did everything well for 90 minutes, except for five seconds."
The German giants took the lead on 38 minutes as 20-year-old Thomas Mueller, replacing French midfield star Franck Ribery who picked up a knock in midweek, slotted home a cross from striker Mario Gomez into the top right corner.
But the home side equalised on 54 minutes as striker Ilkay Gundogan took advantage of confusion in Bayern's defence to tap the ball home from short range.
And despite throwing on German striker Miroslav Klose in the second half, Bayern were unable to deliver the telling blow despite several clear-cut chances.
Bayern's Croatian striker Ivica Olic was philosophical, saying: "We just have to start a new run."
Despite the unexpected point, the draw leaves newly-promoted Nuremberg in a precarious position, second from bottom with only 17 points from 23 games.
In the match of the day, Stuttgart had the perfect preparation for Tuesday's visit from the stars of Barcelona in the Champions League last-16 first leg, humiliating Cologne 5-1 in their own stadium.
German striker Cacau ran rings around the Cologne defence, netting a first-half hattrick and then scoring a fourth in the second half to add insult to injury and burnish his credentials for a World Cup spot in the German team.
He stabbed home a cross from Italian defender Cristian Molinaro on 13 minutes, before curling a superb long-distance effort into the top right corner after 31 minutes.
Another toe-poke in a goalmouth scramble on 38 minutes completed the Stuttgart man's hattrick and he made it four on 74 minutes, a performance that will not have gone unnoticed by German coach Joachim Loew.
Asked about the possibility of a call-up for the World Cup in South Africa, the 28-year-old said: "I just have to put in the performances on the field to keep up my chances."
"Everything else will then come on its own."
In other games, fifth-placed Borussia Dortmund also bolstered their chances of qualifying for next season's Champions League with a 4-1 win at home to Hanover, who remain in relegation danger.
Hamburg, in fourth, missing new signing Ruud van Nistelrooy with a thigh strain, failed to pressure the leaders with a disappointing 0-0 draw at home to Frankfurt.
Mainz and Bochum also played out a 0-0 draw.