Rich countries urged to pay carbon debt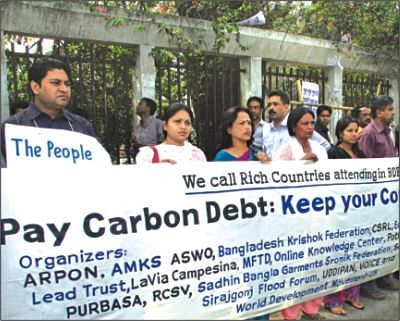 Speakers at a human chain yesterday called on the developed countries and donors to pay carbon debt to Bangladesh since the country is the worst sufferer of the impacts of climate change.
As climate change is the result of high carbon emission by the developed countries, they should pay the compensation, they added.
A total of 21 development organisations formed the human chain in front of the National Press Club ahead of the meeting of the Bangladesh Development Forum (BDF), which began yesterday, says a press release.
The organisations include Equity and Justice Working Group Bangladesh (EquityBD), AMKS, Bangladesh Krishak Federation, CSRL, MFTD, RCSV, Sirajganj Flood Forum, Online Knowledge Centre, Solidarity Workshop, VOICE, etc.
Another protest rally was also held in front of the DFID office in London the same day.