<i>Language veterans of Magura</i>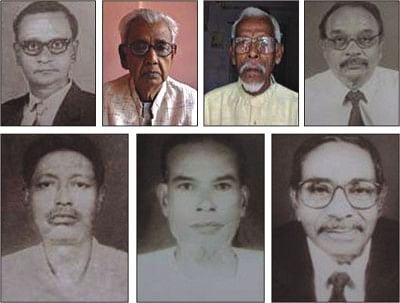 Language movement veterans in Magura have remained unsung and little known, although they played commendable role in the struggle for upholding the dignity of mother language during the turbulent days in early 50s.
"No political or socio-cultural organisations held any programme here to pay tribute to the language movement veterans. Most of them have already passed away," said educationist Khan Ziaul Huq, also a leading language movement veteran in Magura.
Inspired by the language movement that had started in capital Dhaka, local student leaders along with general students of the then Islamia College (now Government Hossain Shaheed Suhrawardy College) in Magura town started campaign in the area and soon initiative was taken to spread the movement to remote areas of the then sub-division.
Student leaders Nasirul Islam Abu Mian, Khan Ziaul Huq, Abdul Jalil Khan, Aminul Islam Chandu Mian and Azim Dewan mainly led the movement at Magura.
Ziaul Huq and Aminul Islam are still alive while two others have passed away.
On February 21 in 1952, police picked up Khan Ziaul Huq, Chandu Mian and a few other leaders when they brought out a procession from Nomani Maidan area and moved towards the Chourongi Square in Magura town.
Meanwhile, a student leader from the then Iqbal Hall of Dhaka University Mirza Shawkat Hossain came to Magura and held meetings at different educational institutions to motivate general students to join the language movement.
AK Hamiduzzaman Ehia, a student of Raicharan High School, with the cooperation of the then headmaster of Sreepur High School Abdur Rahim Joarder began to organise students of different institutions in Sreepur thana. Abdus Salam, Abdur Rashed, Ali Ahmed and Jitendranath Ghosh were among the associates of Ehia.
To observe February 21 in 1952, various programmes including rally was held at Magura under the leadership of Nasirul Islam Abu Mian.
After the news of killing of a few language movement activists in Dhaka reached Magura, students of Raicharan High School in Sreepur placed floral wreath at the Shaheed Minar that they made with bamboo, said language movement veterans.
The government should take initiative to give state honour to language movement heroes, even if it is posthumous, said Aminul Islam.