Bappa and Fahmida's musical offering for Valentine's Day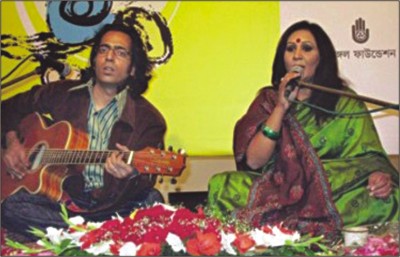 Bappa Majumder and Fahmida Nabi's latest studio album "Ekmutho Gaan 2" will be launched at Bengal Gallery of Fine Arts, in the city, today.
The album comes on the eve of Valentine's Day -- from G Series -- and is the second duet album by the artistes. All songs have been composed by Bappa.
Speaking on the album, Fahmida said, "This latest album follows the success of our first duet album 'Ekmutho Gaan' [released in 2006]. Our fans and well wishers have been asking us to bring out a second duet album."
"On the occasion of Valentine's Day, I would like to dedicate this album to all our fans," she added.
The album features ten tracks -- six duets and four solos. The song "Bhalobeshey Diney Raatey" has been covered by both artistes.
Other songs in the album are: "Nishsho Keno Lagey", "Bishal Akash Hobo", "Hukum", "Jokhon Tokhon", "Majhey Majhey Tomakey", "Shashon" and "Ami Tomar Joggo Kina".
"I hope this album will be able to satisfy music enthusiasts' expectations," Fahmida said.