20,000 Bangladeshi students to get scope for edn in US a year
Says US Under Secretary Judith A Mchale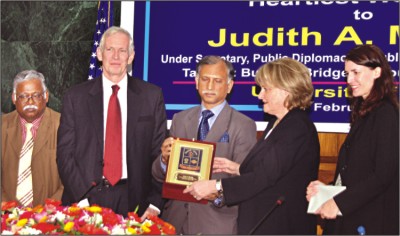 The US will provide education opportunities to 20,000 Bangladeshi students in its colleges and universities every year, US Under Secretary of State for Public Affairs and Public Diplomacy Judith A Mchale said yesterday.
"We encourage Bangladeshi students to come to the US and the US students to Bangladesh. Such exchange programmes are aimed at better understanding of culture and people," she told reporters after a lecture at the Senate Bhaban of Dhaka University.
According to the American Centre in Dhaka, only 2,700 Bangladeshi students are currently studying in the US colleges and universities.
Judith delivered the lecture on 'Building Bridges through Studies in the US'. US Ambassador James F Moriarty, Dhaka University Vice Chancellor Prof AAMS Arefin Siddique and Pro Vice Chancellor Harun Ur Rashid were also present.
Judith said there are many US educational institutions, which are interested to recruit students from Bangladesh. From now on, the American Centre in Dhaka will prepare more tools to inform the students of financial and other facilities the US institutions offer.
She, however, did not mention anything specific on quota or scholarship for Bangladeshi students.
The US under secretary said the recent global economic downturn has proved that the world is very much interconnected and problems of a country affect the whole world. The world is facing even more challenges, so more understanding of public issues is of critical importance, she noted.
"This requires open-mindedness to work together. But it always does not depend on diplomatic channels, but people-to-people contact. Therefore, we are expanding our education to more international students," she added.
Judith, who is visiting Bangladesh for the first time, said Bangladesh and the US maintain a long history of cooperation and will continue it for the betterment of people.
"I am confident that Bangladesh's future leaders will have more opportunities than ever before to experience firsthand the friendship of the American people," she said, adding that more US students will also be coming to Bangladesh to study.
Asked about the deportation of Lt Col (retd) AM Rashed Chowdhury, a convicted killer of Bangabandhu Sheikh Mujibur Rahman, US Ambassador James F Moriarty said they would not comment on this issue because it is a judicial matter.