Steps to be taken to check road crashes
Says Tarana while consoling Hamim's mother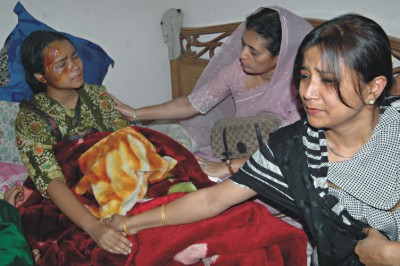 Awami League lawmaker and eminent cultural personality Advocate Tarana Halim yesterday said necessary measures would be taken for enacting a new law to check road accidents.
"I would raise the issue at Jatiya Sangsad and request the government to enact a new law with a provision of exemplary punishment so that no mother loses her child in road accidents and a killer driver cannot escape through the loopholes of law," she said.
Tarana, also general secretary of Bangabandhu Sangskritik Jote, said this while consoling the parents of Hamim Sheikh, a five- year-old student of Willes Little Flower School, who was crushed under the wheels of a speeding bus in front of the school at Kakrail in the city on Wednesday.
"It is very regrettable that the rate of road crashes is increasing alarmingly in the country and such accidents occur due to reckless driving," she said.
She also opined that the killer drivers are also murders and they should be tried under the same law.
Joint Secretary of Bangabandhu Sangskritik Jote Arun Sarkar Rana and its central leaders Nazmul Hasan Palash, Anwar Hossain Maznu, Mukta Hasan and Public Service Commission Member Ikram Hossain were present on the occasion.