'Give martyrs of 1969 mass upsurge due recognition'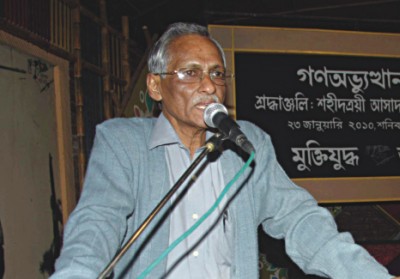 Speakers at a programme yesterday called for giving the martyrs of the 1969 mass upsurge due recognition.
The mass uprising in 1969 set the stage for the liberation war, they added.
They were speaking at a programme organised at the Liberation War Museum in the city to pay homage to Shaheed Asad, Shaheed Matiur and Shaheed Rustam, the trio who embraced martyrdom during the 1969 mass upsurge.
Shaheed Asaduzzaman was an MA final year student of the Department of History, Dhaka University during the movement.
He was killed on January 20 when police opened fire on a procession.
Shaheed Matiur Rahman Mallik, a student of Nabakumar Institution in Dhaka, and Shaheed Rustam Ali were shot dead on January 24 during a procession protesting the death of Asad.
A veteran of 1969 uprising, Abdul Khaleq, who helped carry the corpse of martyred Rustam, presented his blood stained shirt to the museum as a memorabilia.
The younger brother of Asad announced that Asad's blood stained shirt will also be presented to the museum.
Remembering his son Azhar Ali Mallik, father of Shaheed Matiur, said the martyrs of 1969 gave direction to millions of Bangalees, seeking liberty from tyranny.
The corpse of Matiur may be snatched away by the assassins but his ideas lived on.
Prof HM Maniruzzaman, younger brother of Shahid Asad, said, "Although Asad was a student of the history department, renowned historians of Dhaka University never remembered him properly. They also failed to depict the true history of the liberation war."
Dr Sarwar Ali, trustee of the museum said, "The mass uprising of 1969 was like a dress rehearsal that eventually set the final stage for liberation war in 1971, inspiring millions of Bangalees to embark on an armed struggle against the Pakistani tyrants."
Students were the key factor behind the uprising, he added.
Abdul Ahad, another veteran of the movement who also carried the corpse of martyred Rustam, said the name of Rustam has almost sunk in the oblivion.
Singer Susmita Ahmed and Kranti Shilpi Goshthi presented special songs paying tribute to the martyrs while Kazi Arif recited the legendary poem 'Asader Shirt' (The Shirt of Asad) by poet Shamsur Rahman.
Mafidul Haque, trustee and member secretary of the Liberation War Museum, was also present.