Rajshahi, Sylhet and Dhaka strongly placed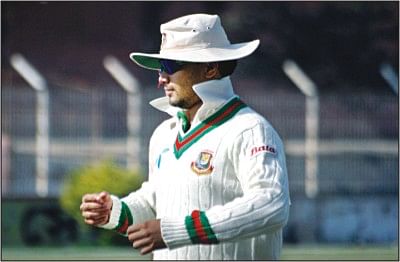 Bangladesh's injured skipper Mashrafe Bin Mortaza's presence in the middle couldn't encourage his side Khulna as they capitulated from a healthy position of 196 for three to be all out for 242 on the second day in their National League match against Sylhet at the Shaheed Chandu Stadium in Bogra yesterday.
Resuming at 196 for three, Khulna lost their next seven wickets for just 46 runs in 17.4 overs. Two overnight batsmen Tushar Imran and Habibul Bashar added 25 runs before being separated. Bashar scored 51 while Tushar got out on 59. The remaining wickets went down like ninepins as five of them got out without scoring. Sylhet pacers Tapash Kumar took three wickets for 60 while Nazmul Hossain took two for 47.
In reply, Sylhet reached 227 for four at the stumps on the second day, only 15 runs behind the Khulna total with six wickets remaining. Sylhet skipper Rajin Saleh scored 83 runs before giving a catch to the bowler Mashrafe. The other notable scorer was Myshukur Rahman with 60.
At the Khulna Divisional Stadium, Barisal faired well in their second innings putting on 175 for three at stumps on Day Two. Opener Asif Ahmed remained unbeaten on 86 while the other opener Fazle Rabbi scored 54 runs. Barisal still trail Dhaka by 31 runs who ended their first innings on 295 after Barisal were skittled for only 89 runs in their first attempt on the previous day. Barisal's left-arm pacer Sajidul Islam took four of Dhaka's first innings wickets for 80 runs.
At the BKSP, Rajshahi overhauled Chittagong's first innings total of 184 and took a 14-run lead as they finished the second day on 198 for three. Chittagong had started the day on 128 for five and added a further 54 runs for the remaining wickets. Chittagong skipper Aftab Ahmed topscored with 42 runs. Rajshahi spinner Saqlain Sajib took all the last five wickers costing 33 runs. Then Rajshahi poised themselves in a strong position courtesy of a fine batting display from all-rounder Forhad Hossain who remained unbeaten six runs short a hundred. Opener Zahurul Islam scored 49 and Zubaer Ahmed scored 39 as Rajshahi ended the day on 198 for three. Chittagong medium pacer Tareq Aziz took all the three wickets to fall.
BRIEF SCORES:
Khulna 1st innings: 242 all out (Tushar Imran 59, Habibul Bashar 51; Tapash Kumar 3-60)
Sylhet 1st innings: 227 for four (Rajin Saleh 83, Myshukur Rahman 60; Mashrafe Mortaza 1-17)
Dhaka 1st innings: 295 all out (Shuvagoto Hom 52, Nadif Chowdhury 48; Sajidul Islam 4-60, Shohag Gazi 4-46)
Barisal 1st innings: 175 for three (Asif Ahmed 86, Fazle Rabbi 54; Mosharraf Hossain 2-33)
Chittagong 1st innings: 184 all out (Aftab Ahmed 42; Saqlain Sajib 5-33)
Rajshahi 1st innings: 198 for three (Forhad Hossain 94 not out, Zahurul Islam 49; Tareq Aziz 3-29)