Shanjib Chowdhury passes away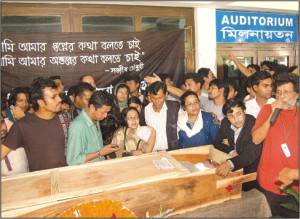 Poular band Dolchhut's singer and journalist Sanjib Chowdhury died at Apollo Hospital on November 19. On the following day, a special programme was held at TSC of University of Dhaka in his memory. Renowned cultural personalities like Mamunur Rashid, Tapan Chowdhury, Fakir Alamgir, Subir Nandi, Andrew Kishor, Fahmida Nabi, Bappa Majumder, Biplob and others were present at the programme. Different students' organisations from Dhaka University paid respect to Sanjib with flowers.
Sanjib became ill suddenly on Thursday last at his Mirpur residence. He was in coma care till his death at the hospital. He died of a cerebral haemorrhage.
Sanjib's body was donated to Dhaka Medical College.
Along with Bappa Mazumder, Shanjib formed Dolchhut in November 1996. In 1997, Dolchhut released their first album, titled Ah! Dalchhut's second album, 'Hridoypur' soon became a hit. He rendered several popular songs of this album titled Ami tomakei bole dibo, Gari cholena, Bioscope. His rendition of Tomar Bhanj Kholo in the film Bachelor became enormously popular.
Moreover, Shanjib was a journalist. He was the feature writer of many well-esteemed Bangla dailies like Ajker Kagoj, Bhorer Kagoj and others.