A "Sonata" for Dhaka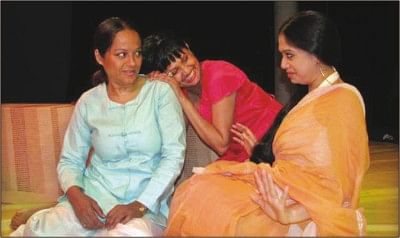 "Sonata", a one-act play by the eminent Indian playwright Mahesh Elkunchwar was adapted by Leesa Gazi to be performed as a bilingual play -- Bangla and English. The setting of the play was changed from Mumbai to London and three Indian women transformed into three Bangladeshi women living the lives of Londoners. "Sonata" was directed by British Bangladeshi director, Mukul Ahmed, and produced by Tara Arts in October 2008. This was the very first time that a theatre performance contained all Bangladeshi actors for the mainstream theatre in London. "Sonata" was part of Tara Arts' Displacement Season. All the plays included in this block explored the worlds of people forced to uproot and start a new life thousands of miles away, their loneliness and the sacrifices they have had to make.
"Sonata" will be staged today, tomorrow and the day after at the British Council auditorium in Dhaka and is being co-produced by Tara Arts, the British Council and ITI, Bangladesh.
Tara Arts was founded in 1977 as a response to racially motivated violence in the UK. Since 1981 the theatre has been based in South London. Its aim is to represent cross-cultural theatre and stages classical and modern plays. Tara embraces representation of different cultures in performance and visual arts.
Mukul Ahmed was trained as a theatre director at London University in 2007. He closely follows the vision of Tara Arts' Artistic Director, Jatinder Verma, and works with modern plays as well as the classics. Mukul's direction of an adaptation of "The Adventures of Baron Munchausen" in 2007 earned him the much-coveted 4 star from the Times theatre critic, Jeremy Kingston. Other major plays directed by Mukul are "Prints of Denmark", "The Rape of Lucrece" and "Rokeya's Dream" (based on "Sultana's Dream").
He has Staff directed at the Royal National Theatre, England and just prior to his visit to Bangladesh directed "Romeo & Juliet" for Tara Arts. In July 2010, Mukul is going to direct Tahmima Anam's "A Golden Age" (adapted by Leesa Gazi) for the South Bank Centre. In the not too distant future, he plans to stage Syed Waliullah's "Laal Shalu" (Tree Without Roots). Mukul is programming a Youth Shakespeare Festival season at Tara Arts for the coming spring and runs the Tara Arts young actors programme, ArtsBeat.
Mukul has been the recipient of the Laurence Harbottle scholarship and has done an attachment with the Royal National Theatre under the Stepchange bursary programme.
Mita Chowdhury, Leesa Gazi and Farhana Mithu play the three college friends who have settled in London in "Sonata".