Bitter cold kills 13 in Aila-hit Dakope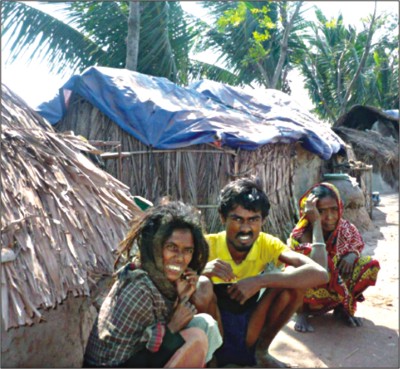 Biting cold and cold-related diseases have claimed the lives of 13 people in Dakope upazila of Khulna district in last one week as the area, worst hit by cyclone Aila, sees serious crisis of food, proper shelter, drinking water, medicines and warm clothes.
Affected with cold-related diseases including pneumonia and bronchitis, 24 infants and four elderly people are now undergoing treatment at Dakope Upazila Health Complex while many more are suffering.
Condition of 11 people including nine children is critical, said Dr Akbar Hossain, medical officer of the health complex.
Cold wave has also claimed two more lives at Batiaghata and Dumuria upazilas of Khulna district.
Over two and a half lakh Aila-affected homeless people, mostly in Kamarkhali, Sutarkhali and Tildanga unions of Dakope upazila, have been fighting against biting cold in makeshift camps.
As they are yet to be provided with sufficient food, safe drinking water, medicines and warm clothes, cold-related and water-borne diseases have broken out in epidemic form, said Medical Officer Akbar Hossain.
Samaresh Roy, chairman of Kamarkhola union of Dakope upazila, told this correspondent on Tuesday said that biting cold and cold-related diseases claimed 13 lives at Khamarkhola, Sutarkhali and Tildanga unions in last one week.
They are Banomali Sarder, 75, Sonaimati Sarder, 83, Manoranjan Mandol, 78, Abir Gazi, 67, Profulla Sarder, 72, Manik Mandol, 77, Nazem Gazi, 80, Kiron Chandra Shil, 70, of Kamarkhola union and Bimola Sana, 78, Mahabbat Ali, 75, Amela Begum, 81, Bhanu Bibi, 91, of Sutarkhali union and Abdul Gani Gazi, 74, of Tildanga union.
Proper treatment cannot be given to homeless men and women suffering from cold-related diseases as the upazila health complex has not sufficient medicines, the medical officer said.
The situation is gradually taking an alarming turn as severe cold wave continues, said Dakope Upazila Nirbahi Officer Kazi Atiur Rahman.
Both UNO Kazi Aitur Rahman and Upazila Chairman Sheikh Abul Hossain said that no positive response had so far been received despite frequent reminders to the Ministry of Relief, Disaster Management and Food for arranging warm clothes and blankets for homeless Aila-affected people.
"Even we are not getting any positive response from NGOs to save the homeless Aila-hit people from sweeping cold wave and cold-related diseases," the upazila chairman said.
The High Court recently ordered the government to arrange winter clothes and blankets for Aila-affected people of Khulna and Satkhira districts by December 31 this year.