PM assures Basila-Waspur boatmen of rehabilitation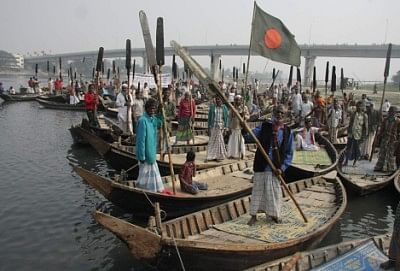 Some 200 boatmen of the age-old Basila-Waspur ghat, who lost their livelihood due to construction of Shaheed Buddhijibi Bridge, burst into applause yesterday after the prime minister announced that those effected boatmen would be rehabilitated.
Since early morning, about 200 traditional boatmen sat on their boats in single file in the river Buriganga urging the PM to take a rehabilitation programme for their livelihood.
After formally opening the 708-metre long bridge, Prime Minister Sheikh Hasina announced that the boatmen would be rehabilitated.
The boatmen were left out of a rehabilitation programme, as the Tk 49 crore donor of the project 'Kuwait Fund for Arab Economic Development' did not have any direction for them.
The bridge connects the western part of the city with vast areas of Keraniganj and Savar road in the north and Mawa road in the south.
The Daily Star published a report on the plight of the boatmen on December 21.
For over a century, traditional boatmen have ferried millions across the river Buriganga from the Basila-Waspur point. With the bridge nearing completion, boatmen felt threatened with their livelihood and submitted a petition to the PM's office on November 15.
Local lawmakers from Keraniganj and Mohammadpur advocate Md Quamrul Islam and Jahangir Kabir Nanak, both also state ministers, had pledged to help the boatmen in their struggle to secure compensation.
Advocate Quamrul Islam, state minister for law, justice and parliamentary affairs, told this correspondent that people welcomed the premier's decision to rehabilitate the boatmen and also made the bridge toll-free for rickshaw-vans and rickshaws.
"After we receive the list of the boatmen, we will start the procedure for the rehabilitation programme," said the state minister.