Eight Hizbut Touhid militants arrested
Books, leaflets, CDs seized in Noakhali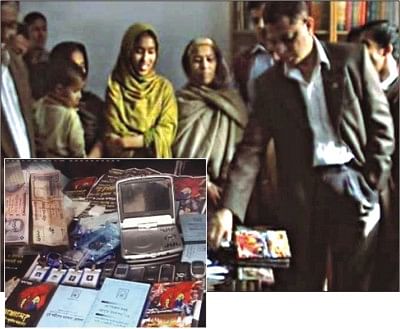 Sudharam police yesterday arrested eight suspected members of banned Islamist outfit Hizbut Touhid, three of them women, from the third floor of a house in Uttar Fakirpur area in the town.
Acting on a tip-off, a police team led by senior ASP Md Moniruzzaman raided the house known as "Judge Bhaban" at noon and rounded them up.
Police also recovered a huge number of books on militancy, leaflets, letters, 30 CDs, Tk one lakh, two cheque books, eight mobile phone sets and four identity cards from possession of the arrestees.
The arrestees are district amir of the outfit Md Mainuddin, 24, Abdus Sobhan, 55, Md Russell, 18, Hasna Akter, 18, Nargis Akter, 27, Hosne Ara Begum, 48, Abdul Wahid Mamun, 28, and Sajib, 18.
Police said six arrestees hailed from Purkora village under Sonaimuri upazila in the district. Of the other two--Abdul Wahid Mamun came from Bhouak village under Sonagazi upazila while Sajib from Uttar Farkirpur village under Sadar upazila.
Contacted, Moniruzzaman said Laxmipur district detective branch (DB) of police last month recovered some banned books.
A mobile phone number was found in one of those books. Tracking the mobile number, police first arrested Mamun from in front of Woodland Hospital at Napiter Pool area in the morning, he said.
Following his confession, police arrested militant Mainuddin from in front of Sonali Bank treasury branch and on the basis of their information, police arrested the rest six from the third floor of the "Judge Bhaban" at Uttar Farkirpur in Noakhali Sadar.
Earlier on March 10, Sonaimuri police arrested Md Mainuddin from Purkora village after a three-hour-long gunfight.
Police also arrested 23 other militants and recovered several locally made weapons from the arrestees. But all of them were later freed on bail.
Noakhali police superintendent Harun-or- Rashid Hazari told journalists that the arrestees might have been carrying out militant activities under the banner of Hizbut Touhid founded by Imam Bayazid Khan Panni of Tangail.
The arrestees are now being interrogated, he said without giving further details.