Call to ensure bicycle-friendly environment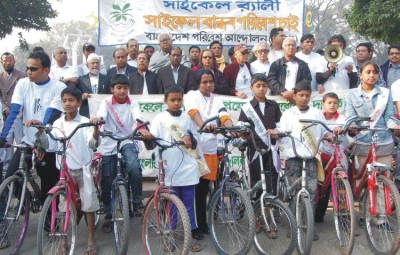 Speakers at a rally yesterday called for ensuring bicycle-friendly environment in the city in order to make the city lively and liveable.
Such an initiative would also help protect the environment, improve public health and also boost economy, they added.
The speakers said the mortality rate is increasing day by day due to various diseases, such as diabetes, cardiac ailments and blood pressure. But only 30 minutes of cycling a day can reduce this rate.
The rally was held at the Central Shaheed Minar premises in the city before the start of a bicycle procession jointly organised by Bangladesh Poribesh Andolon (Bapa) and WBB Trust. The procession ended at the National Press Club.
The speakers also said pollution of the environment is increasing alarmingly due to a rise in the number of motor vehicles. Emission of carbon from such vehicles is also contributing to the global climate change.
Promoting the use of bicycle can cut the rate of carbon emission, they added.
They also called on the government to reduce high tax on bicycle and launch awareness campaign to encourage the city dwellers to use bicycles.
They demanded that bicycles be distributed among students at a low price and separate lane be introduced in the capital for bicycle riders.
They also called for improving the quality of public transport service.
Astronomical Association President Prof AR Khan, former member of planning commission Dr Anisur Rahman, Bapa leader Prof Nazrul Islam spoke at the rally presided over by Kamrul Ahsan Khan.