Rangamati wears festive look for Raj Punyah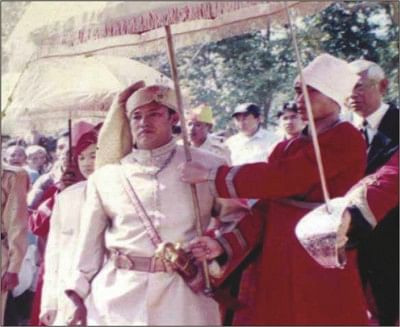 Rangamati hill town assumes a festive look as preparations are on to celebrate the three-day-long traditional 'Raj Punyah' festival that will begin at the compound of Chakma Rajbari (palace) today.
A big canopy has been erected on the Rajbari (palace) premises and a temporary bamboo bridge has been constructed along the Rajbarighat for convenience of the visitors.
Chakma Raja Devasish Roy and prince Tribhuban Aryadev Roy will ascend the makeshift throne as the 'Raj Darbar' will be held according to the traditional customs at Chakma Rajbari at 1:00pm today.
Raja Devasish will receive annual jhum taxes from the 175 headmen (mouza chiefs) at the function. The Raja himself oversees three other mouzas.
As per tradition, they will also bring different gifts including chicken, pig and wine for the king during the three-day festival.
Headmen and karbaries have been providing jhum taxes to the government through the chiefs of Chakma, Bomang and Moung circles in three districts of Chittagong Hill Tracts for a long time.
Alongside land and tax management, the headmen and karbaries play important role in maintaining law and order at the local level and conduct social arbitration in the indigenous society.
Despite performing important jobs, the traditional leaders are utterly neglected as they get Tk 300 only as monthly allowance from the government. Many of them have to struggle hard to maintain family.
Gautam Muni Mela, indigenous cultural function and sports, drama and jatra will mark the three-day Raj Punyah festival. Besides, there will be exhibition of different indigenous attires and bamboo-made furniture.
Indigenous people, especially those belonging to the Chakma community, have arrived in Rangamati town from far-flung areas to join the royal festival.
Hotels, motels and guest houses in the town are already booked as people from different parts of the country have come to see and enjoy the traditional festival.
Raj Punyah was held in Rangamati in 2003 after a long time. Then it did not take place during the last five years for various reasons.