A kaleidoscopic vision of Nepal
Photo exhibition at National Press Club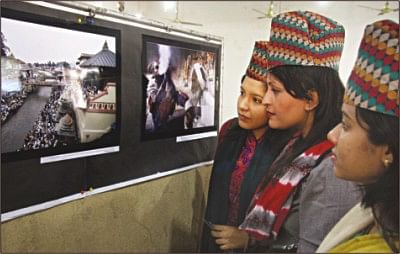 National Forum of Photojournalists and Bangladesh Photojournalists Association jointly organised an exhibition titled 'Maitri Nepal Photo Exhibition 2009' at the National Press Club in the city.
The exhibition features 60 colour images by Nepalese photographers -- focusing on Nepalese life, traditions, culture, festivals, scenic beauty and more.
One of the images shows mass participation in celebrating Bisket Jatra in Bhaktapur. >Bisket Jatra is one of the most colourful and vibrant celebrations in Bhaktapur, Nepal. The locals celebrate it by brining out the palanquins, carrying Hindu deities.
Children are seen playing under a big tree in another image, depicting the uniqueness of Nepal.
A photo shows Hindu devotees in red attire celebrating the Teej festival, an occasion especially for women. The image shows women in contemplative mood. Ashesh Rajbansh took the photo.
Women taking a dip in the warm water lake at Myagdi in Dhaulagiri district, are the subjects of another photo. Radiating with glee, the women have a serene look about them.
Morning light passes through the roof of a thatched house -- one of the images at the exhibition. Old furniture and some unusual items are seen crammed in the room. A cat resting on the floor is also noticeable.
Another photo shows a number of Hindu devotees seen making a cake; the mood is jovial. The photo by Deependra Munni Bajracharya was shot in the countryside.
The exhibition ended yesterday.