Memories of their martyred father
In conversation with Sadi and Shibli Mohammad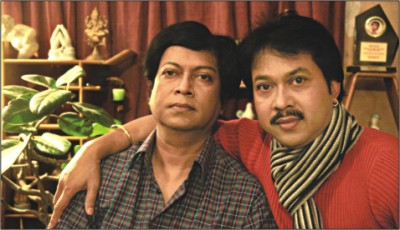 Tagore singer Sadi Mohammad and dancer Shibli Mohammad are familiar names in our cultural circuit. In 1971, collaborators of the Pakistani army killed their father brutally. On the eve of Victory Day, the siblings shared their thoughts on the Liberation War, memories of their father and a host of other issues.
The first part of the conversation was dominated by recollections of their father. Though Sadi recalls the incident, which cost his father's life, Shibli said he was too young to remember it.
"Our father was not involved in active politics, rather he was known as a philanthropist and a respected individual in our neighbourhood. Mostly non-Bengalis lived in the area (Mohammadpur) then. As a committed individual, my father always fought against the odds from an ethical point of view," said Sadi.
"They killed our father on March 26, 1971 in front of our house," said Shibli. As a sign of honour, a road in the Mohammadpur area was named after their father, Shaheed Salimullah.
"My impressions of our father is not like my elder brother's, as I was too young to remember anything; rather whatever I am today is due to the support and encouragement of my mother and siblings," added Shibli.
Shibli has been involved in the field of dance since 1980, after graduating from Jahangirnagar University. On the other hand, Sadi was more into music.
The conversation then veers to the question of how they draw inspiration from their father or how they remember him on their respective cultural fronts. The siblings have differing views.
"In my performance I always try to demonstrate the spirit of the Liberation War. Dance gives me the option to articulate that spirit in a more profound manner," said Shibli.
"Music seeks universal peace. So, my way is to disseminate the message of peace through songs. I think it's not only about my father, who is one of the three million martyred during the war; through my performance I try to honour all of them," said Sadi.
The siblings are unanimous on one score: "One thing is for sure; we want to ensure that our mother is able to see the trial of the war criminals," said the siblings in one voice.
What about the hurdles that they faced being the offspring of a Shaheed.
The siblings lamented that they were blacklisted from the cultural arena during the last political regime, which they found unexpected and caused them much sorrow. "I bear no political label, why then did I have to go through such ordeal?" questioned Sadi.
Both artistes expressed their woes and as the offspring of a martyred individual, both want the war criminals to be brought to justice.
At present Sadi is busy preparing for his organisation Rabi Raag's 23rd anniversary, which will be held next February. Shibli, in turn, has recently returned from India. He is pulling out all the stops for a mega event, in which his troupe Nrityanchal is to perform at the inaugural ceremony of the upcoming SAAF Games.