Surrender sites of Pakistan army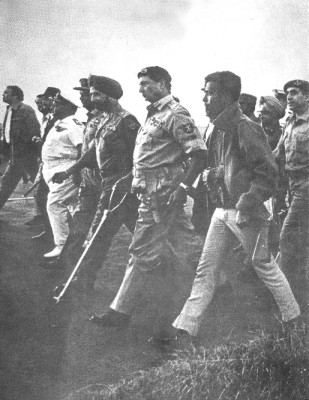 After long nine months of genocide, rapes, arsons, loots, plunders and a short 13 days' 'war', Pakistan Army Eastern Commander Lt. General Amir Abdullah Khan Niazi ('Tiger') surrendered unconditionally on behalf of his 93 thousands war criminals and country at a public ceremony at Dhaka Ramna Race Course (now named Suhrawardy Uddan) to the Bangladesh and Indian joint command on 16 December 1971. Since the end of Second World War it is the largest surrender of any army. Also, this is one of the fastest surrender in military history.
However, 1971 surrender of Pakistan Army in Bangladesh was eventful. As a military custom each Pakistan army division, Air, Navy, para military forces surrendered separately after General Niazi. Outside Dhaka before and after 16 December, in order to save life many Pakistani units (division to company) surrendered to the advancing local joint command at public ceremonies by laying down their weapons/ badges of rank and by signing the instruments of surrender. For communication problem surrender of some units were delayed. A few units ignored the surrender of General Niazi. Some Bihari (paramilitary) gangs and other elements were active in pockets of Dhaka (Mirpur), North Bengal and Chittagong Hill Tracts until February 1972 and after 'negotiation' surrendered their arms.
Pakistan Army 107 Brigade commander Brigadier Malik Hayat Khan with his four thousand soldiers surrendered at a public ceremony in Khulna on 17th December. Chittagong people witnessed Pakistani surrender on 18 December. Four thousand Pakistani soldiers surrendered at Naogaon on 20 December.
Construction works of 'Shadhinata Stambha' monument complex has restarted at the historic Suhrawardy Udyan to commemorate the 7th March speech of Bangabandhu and 16th December capitulation of the occupation Pakistan Army. We would request the government to identify and mark all Pakistan Army public surrender sites in Bangladesh. From India and other countries all surrender document copies/ photographs/ videos can be collected and displayed. Living witnesses should also be video recorded.
These public surrender sites will serve as the graveyards of Pakistan Army's unsuccessful ambition to permanently colonise Bangladesh through a genocide.