Glory days: Ajit Roy speaks on Swadhin Bangla Betar Kendra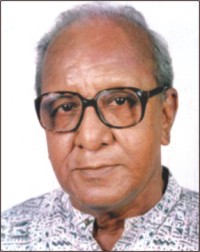 On the eve of Eid-ul-Fitr in November 1971, when the artistes of Swadhin Bangla Betar Kendra saw the moon, they all became emotional. As veteran singer Ajit Roy reminisced, "With due respect for the religion, nobody was in a mood to celebrate Eid, when people were in pain and agony. Lyricist Shahidul Islam wrote a song 'Chand tumi phirey jao' and Rupa Khan sang it. Everyone shared this sentiment. I composed the tune of the song."
Ajit Roy has been a passionate singer since 1963. He has composed several patriotic songs including "Ekti Bangladesh tumi jagroto janatar", "Apomaney tumi shedin jwaley uthechhiley barnomala", "Banglar mukh ami dekiachhi", "Hey bango bhandarey tabo" and more which went on to become hugely popular.
Going back in time to mid-1971, Ajit recalls receiving a message from Swadhin Bangla Betar Kendra asking him to join the radio station. He recalled, "I could not avoid the urge to join the radio. So, I prepared myself for the trip to India. I went with a group of freedom fighters led by Monirul Alam Manu who arranged everything for me."
Ajit said, "I can never forget how common people helped us on that journey." He reached a camp of Freedom Fighters in Agartala and finally made it to Kolkata in July. He still recalls the first moment of his arrival at the Swadhin Bangla Betar Kendra. "All the people who had already joined the radio station including singers Apel Mahmud, Abdul Jabbar, Kaderi Kibria, composer Samar Das and others were ecstatic to see me. After I joined the radio, its structure was more organised," said Ajit.
Ajit has other memories too. On December 16, he went out to have a cup of tea and heard the news of victory on the way. "We could hear the blank fires all around the city and everyone was extremely excited upon hearing the news. There was celebration everywhere. Naturally our plan was totally changed. We prepared to sing songs of victory," Ajit recalled.
Akhtar Hossain wrote "Shwadhin shwadhin dikey dikey aaj" and Ajit composed the tune. After recording, the song went on air that very day. "We had nothing but tea all day. But our excitement and joy dispelled hunger. There is nothing to compare to the feeling of attaining independence," said Ajit.
The article is a reprint.