Dhaka streets to have 3 lanes for different vehicles
Move to bring discipline in vehicular movement, ease jam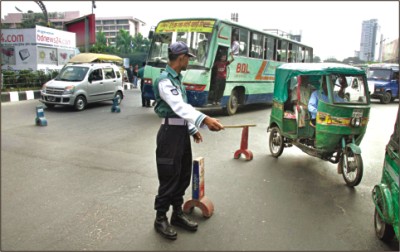 As part of a campaign to introduce specific lanes for vehicular movement Dhaka Metropolitan Police (DMP) has marked roads and important intersections with cones in a bid to make drivers accustomed to the system.
The fast lane will be for private cars, microbuses, jeeps and similar automobiles while the middle lane for minibuses, buses, covered vans, trucks and such vehicles, and the slow lane for CNG-run auto rickshaws, pickup vans, motorbikes and other vehicles.
On the second day of the campaign week, DMP took cable TV operators' help and are using loudspeakers across the city. They failed to distribute leaflets and posters due to the Eid vacation.
However, DMP sources said printed leaflets and posters would be ready for distribution today.
As for the initial step, DMP authorities are going to introduce the system on three major thoroughfares and in phases other roads in the capital will be marked with lanes.
The DMP sources said though the Dhaka City Corporation (DCC) assured the DMP of marking the lanes during the Eid vacation the task will start from tonight.
Deputy Commissioner (DC) of Dhaka Metropolitan Police (Traffic) Awlad Hossain said, "We will demarcate lanes on VIP road, Mirpur road (from Science Lab to Technical), and Mohakhali Diversion to Tongi Bridge. If the system brings positive results on traffic movement, the DMP will mark lanes on other important roads across the capital."
The DMP authorities asked the drivers not to overtake the vehicles taking turn on left to alter lane before reaching the intersection and not to block lanes at intersections keeping vehicles on wrong lanes.
The sources said 12 check posts will be set up at Hotel Sheraton, Hotel Sonargaon, Bijoy Sarani, Farmgate, Kakoli, Progati Sarani, Airport square, House Building, Science Lab, Russel Square, Asad Gate and Technical intersections to enforce the rule.
The DMP has swung to traffic light signals phasing out manual controlling system from November 23 to ease traffic congestion in the capital.
On December 8, the DMP will start a drive against traffic rule violation. Drivers would be penalised with Tk 1,000 each and suspension of driving licence for violating traffic rules.