Red Chilli Business at Fulbari of Bogra
Turnover goes up to Tk 100cr from Tk 5cr in just 5 years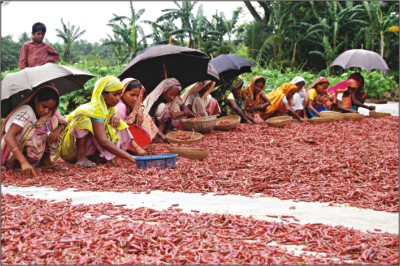 A serene Bogra village has turned into a hot spot of red chilli trading with renowned spice producers and marketers sourcing bulk of their raw materials from the place.
Within a span of five years, the annual turnover of red chilli business at Fulbari village of Sariakandi upazila in Bogra has gone up from a just Tk 5 crore to Tk 100 crore, said local businessmen.
For producing package red pepper, companies like Square, Acme and BD Foods now collect their chillies from as many as 12 purchase centres at Fulbari. Over 2000 poor rural women are employed in these centres having potentials of supplying about 3000 MT red chillies.
As Bogra is known for producing quality hot red chillies, five enthusiastic businessmen set up the chilli market at Fulbari in 2004 aiming to supply chillies to spice factories in the capital city.
Over the years spice makers got good consumer base, particularly in the urban neighbourhoods where working women and also the homemakers running families without assistance of domestic helps find it easier to buy a sachet of red pepper than grinding chillies at home.
"We started the red chilli business first in 2004 along with a few local businessmen including Moksedul Alam and Mozzafar Hossain in a very low scale" said wholesaler Md Zahurul Islam.
"So far I remember, I supplied only 80 MT of red chillies in the first year and the volume has now gone up to 300 MT fetching me around Tk 3 crore a year" said Md Zahurul Islam.
Chilli trader Md Moksedul Alam told The Daily Star that at least 5000 jobs have been created in the areas centering production, processing, trading and marketing of red chillies at Fulbari during the last five years.
Alam, who also works as a local agent for Radhuni, a Square spice brand, said initially Radhuni used to collect red chillies worth Tk 10 crore annually from Fulbari but the volume of purchase has now shoot up to Tk 30 crore.
Now 12 businessmen are supplying quality chillies to over 10 spice companies having factories in Dhaka, Natore, Sirajganj and Comilla districts.
"I employed 20 women and five men five years ago when I started my business. Today, 60 women are working at my purchase centre," said Moksedul Alam.
"I have started my business with only 46 people including 30 women five years ago but now the centre has around 300 employees," said another trader, Md Zahurul Islam.
According to Islam, about 2000 women are engaged in the trade starting from on-the-field chilli sorting to its processing and packaging.
Didarun Bibi, 50, who has been working in a purchase centre at Fulbari village since 2004 said, she earns Tk 1500 per month.
"I bought some cultivable land in the area from my own income" said Bibi recalling that previously she used to work as domestic help in the neighbouring Amtoli village at a paltry wage of Tk 200 a month.
Gini Bibi, 35, another proud worker said, she was able to support the education expenses of her son and daughter from her earnings from chilli purchase centre.