Root of all problems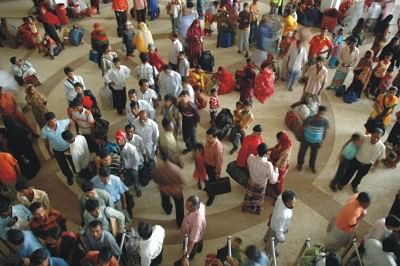 We have numerous problems. Shall I name some? Well, the much talked about traffic jam, terrorism (not by international terrorists but by our own fellows), water logging due to blockage of sewerage lines, shortage of drinking water all over the country, shortage of electricity, unemployment, 10 feet solid silt due to polythene on the river bed of the river Buriganga and so on. My apology if I have made you tired of reading. But the list may be much longer. What is the number one reason as the root of all the above mentioned problems? The answer is excessive POPULATION.
Everybody knows about the root of all the problems and that is excessive population. Bangladesh is the most densely populated country in the planet. But for mysterious reasons nobody talks about this! The population in entire Finland and Norway, each much bigger than Bangladesh, is 10.3 million which will be half the population of Dhaka City. Whereas the area of these two countries is around 179000 sqm, which is 3.33 times the size of entire Bangladesh! Venice is crying to increase their population. Hungary is losing its population. But in Bangladesh?
What is the population of this country? I can throw a challenge that none in this country has any information or data in this regard. Some source speculates the population of this country to be 150 million! I beg to disagree as there is no such data bank or info centre to establish this theory. UNFPA also echoes the sayings by our bureaucrats! I remember in the early sixties there was a large billboard on the west side of Dhaka GPO, saying that 'Every day 14,000 children are born in the country', 'Keep you family size small' (that was for East and West Pakistan). My hats off to Field Marshal Ayub Khan, the then autocrat president of Pakistan. He at least gave a momentum to population control in the sixties in this country.
Today there are no activities of population control by any sector, neither by the government nor by any NGOs. All intellectuals in the talk shows speak to control the on-rush of people to Dhaka by decentralizing this and that. But, unfortunately, for unknown reasons, except one or two, none uttered anything on this problem.
Give incentive to families having one child and take away some facilities from those having more than one child like no trade license, no rickshaw pulling, no job or no promotion. Please do some thing, please.