Brac chief honoured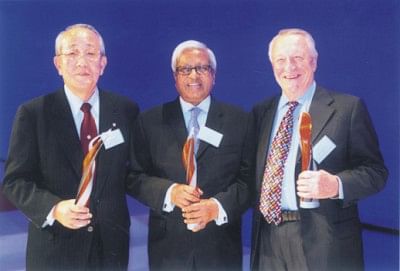 Brac Founder and Chairperson Fazle Hasan Abed received the first ever 'Entrepreneur for the World' award at the World Entrepreneurship Forum on November 19 at Lyon, France, said a press release.
He received the award in the 'Social Entrepreneur' category.
The World Entrepre-neurship Forum was established by EMLYON Business School, the leading European business school in entrepreneurship, and KPMG, a global network of professional services firms providing audit, tax and advisory services.
The forum started giving awards in 2008 and the Social Entrepreneur category was included in 2009.
Patrick Molle, president of EMLYON Business School, and Jean-Luc Decornoy, chairman of KPMG SA, presented Abed with the award "to highlight his more than 30 years at the head of one of the largest non-government development organisations in the world.
The awards were presented in four categories.
Dr Kazuo Inamori, founder of Kyocera Corporation and KDDI Corporation in Japan, received the award in the 'Entrepreneur' category and Mary Robinson, former president of Ireland, was awarded in the 'Politician' category.
Bert Twaalfhoven from the Netherlands was awarded in the 'Expert' category.