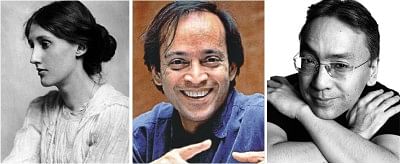 The question Why Write? is one that writers hear often, sometimes asked in jest and at times with serious intent. How writers choose to answer it (again, sometimes in jest, and sometimes seriously) can vary, because the question is difficult, frustrating, and perhaps futile. Lurking within it is a number of flawed, thin assumptions about the nature of utility and importance. The question's main assumption is that, because "not many people read," therefore reading, and the work that produces reading (writing), are both, inherently, not "truly important" acts. Since few people have the time or luxury to read, writing cannot, then, be very important. Indeed, "no one will read this" is the deadliest phrase the struggling writer whispers to himself in self-defeat.
Let us examine these assumptions. If everything were defined this way if one only held what "most people" did to be most valuable, ignoring the reasons why people do these things one would live in a very empty and terrifying world. Such a world would be defined by merely survival and self-interest, by the searches for food and shelter and reproduction, by major cruelties, by the accumulation of things. No person, then, would find art, or writing, or novels, valuable because their effects are not always, or necessarily, tangible or material.
In truth, the person who poses the question "Why write?" cannot be a thoughtful reader, or a lover of literature. If one has ever been lost in the world of a work, has felt oneself in the searches, passions and suffering of a fictional character, has felt a little more confirmed of one's worth and importance in the world, or has been able to see the people around one more clearly, then one understands why writing is one of the most important types of work a human being can undertake. In the play of characters and the constructions of fictional worlds, we watch the drama of our own lives unfold. We find people who are better and nobler than us, and we find people we would never spend an hour with in an enclosed room. We are offered the exclusive privilege, and pleasure, of seeing the thoughts inside a human being's head, a privilege we are never offered in real life.
One might go on to even respond to the query as follows: writing is rhetoric, and rhetoric is argument, which works to discern and lay bare the intent and motives of groups of people, the importance of context and effect, and the gamut of human or animal experiences of time, emotion, and transcendence. In writing, an author can pose moral or ethical problems, explore and analyze different perspectives on any subject or idea, and work through the endless dilemmas of the heart. In reading writing, we learn from these rhetorical puzzles, offered up in different narrations, speakers, voices, religious and socio-historical contexts. We see our world's dilemmas reflected back to us. We learn to think more clearly and powerfully through writing, and we learn to be more developed, nuanced individuals.
Writing is how we transform our daily boredoms, our frustrations, and most importantly, our suffering, into beauty: the type of beauty we hopefully can experience in our own lives, even if once, or at least aspire to experience.
Nora Khan lives in New Haven, Connecticut, USA.